Pinterest is great for content marketing right now. I used it to start gaining traffic on my website immediately after building my website and publishing two blog posts. I will teach you how to set up your pinterest business account today.
You can become an overnight success with a viral pin on Pinterest.
It is an important tool for driving massive traffic to your website and making money too.
But how do you use Pinterest to grow your traffic?
Alot of new content creators and website owners find it challenging trying to figure out how to use pinterest to drive traffic to their website.
They open an Instagram Account, Youtube channel in search of traffic, and then no result.
If you are new to content marketing or just started your website, I will suggest that you focus on Pinterest and Facebook first as the best tools to drive traffic. Your audience are very much on these two platforms and you will make money when you start driving the right traffic to your website.
Essentially, pinterest is a search engine, where people are looking for things to make, use, try and buy. You can pin your blog posts, content, products, and services on the platform. When people click on your pin, and go to your website, you generate website traffic.
All you need to do is create beautiful pins using templates, use an approved scheduler, and describe your pins with words that people are searching for. But to get the many benefits of using pinterest, you need to do the following:
Set Up A Pinterest Business Account
A business account gives you access to important analytics, allows you to enable rich pins(which are high quality pins than the regular ones). And allows you to connect your website directly to your pinterest account.
Your Pinterest Business account needs to be set up differently than a personal account.
If you have a personal account, you should convert it to a business account. To do that, login to your pinterst account, click on the three dots at the top right, navigate to account settings, scroll down and click on convert to business account.
But if you don't have a personal account at all and you just want to create a new pinterest business account, then follow this link and create your account.
When you click the button to sign up, you will enter your email address and the password that you will use for your pinterest account.
Then follow the prompts:
Choose your language and country
Choose a business name and business type for your account
Insert your website url
Connect your social media platforms (optional)
And that's it you have successfully created your pinterest business account.
Now, that you have your pinterest business account, you need to claim your website.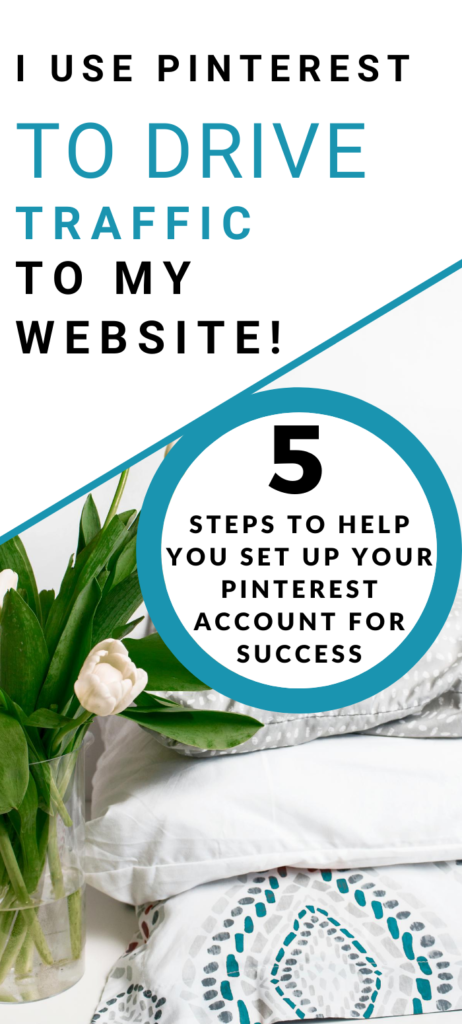 How To Claim Your Website On Pinterest
Claiming your website will give you those important analytics about pins that are saved from your site. It helps you know what type of content your audience are saving from your website.
After claiming your website on pinterest, you will also get a profile picture next to all the pins that come from your website.
Follow the steps below to set up your pinterest business account.
Step 1
To claim your website, go to your pinterest account, navigate to settings, click on the tab "claim", type your website url into the box, and hit the red claim button.

When you click the red "claim" button, a window will pop up with two options to choose from: Add "HTML tag" or "Upload HTML file".
Choose Add HTML tag and copy the code.
Don't hit NEXT, not quite yet!
Just copy the code and move to the next step(keep your pinterest tab open)
Step 2
Login to your wordpress dashboard. Click on the Yoast SEO tab on the left side of the screen, then click on Social.
In the Yoast SEO social page, click on the Facebook tab, and hit on the "Enabled" toggle button under Add Open Graph Meta Data.
Scroll down, and hit save changes.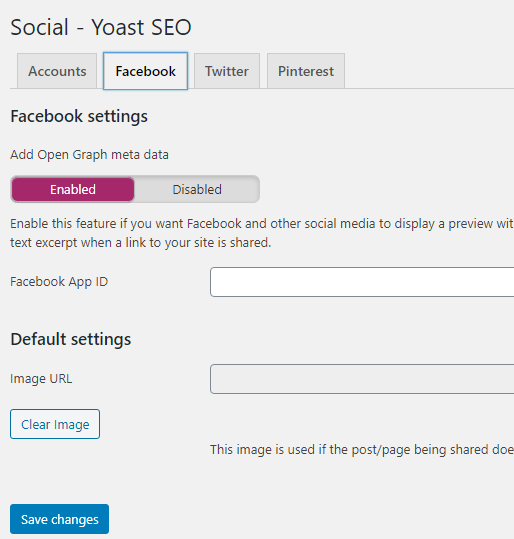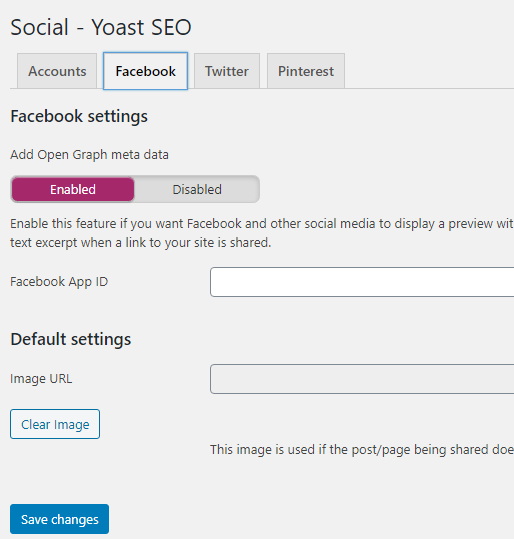 Click on the "Pinterest tab" in your Yoast SEO that is still open.
Remember the meta data that you copied from your pinterest profile in step 1, paste inside the pinterest confirmation box.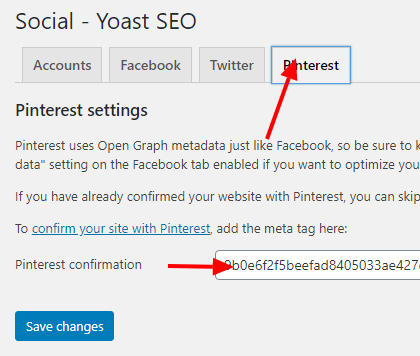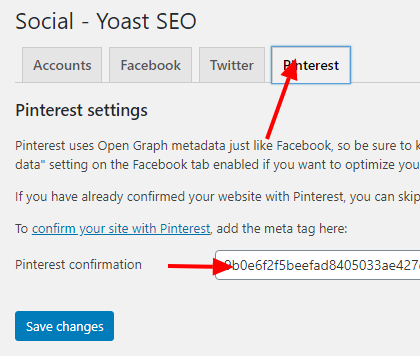 hit save changes.
Next, go back to your pinterst account, the tab that you left open in step 1 and hit the NEXT RED BUTTON.
When you complete this step, a window will pop up that says "Submit For Review?" Click Submit, then wait for the email confirmation that says your website has been claimed.
You should get an email within 24hours.
How To Apply For Rich Pins
After claiming your website on Pinterest, the next step you should take is to apply for rich pins.
Rich Pins provide more context about an idea because they show extra information directly on a Pin.
Rich pins gives your pinterest pins more information that will make your readers and other pinners(pinterest users) to click on your pin and read your content or save your pin to their boards.
There are four categories of Rich Pins and they are:
Product
Article
App
Recipe
Product Pin: Product Pins make shopping easier. They include real time pricing, availability and info on where to buy your product.
Article Pin: Article Pins help Pinners save stories that matter to them. Each article Pin shows a headline, author and story description.
App Pin: App Pins show an install button so people can download your app without leaving Pinterest. For now, app Pins are only compatible with iOS.
Recipe Pin: Recipe Pins get cooks excited with all the right info: ingredients, cooking times and serving sizes.
How To Set Up Rich Pins With The Yoast SEO Plugin
You can easily apply for rich pins using the Yoast SEO plugin in a two step process. The Yoast SEO plugin makes the entire process a breeze.
Step 1 – You will add some metadata to your site using the Yoast SEO Plugin
Step 2 – You will apply for rich pins using the rich pin validator.
NOTE: If you followed my step above for claiming your website, then you already completed step 1.
For Step 2, you will go to Pinterest Rich Pin Validator.
Copy the url of any of your website blog post, and paste it into the box and click on the "Validate" button.
Once you do that, you will see a pop that says "Apply". Click on the button and you're all set.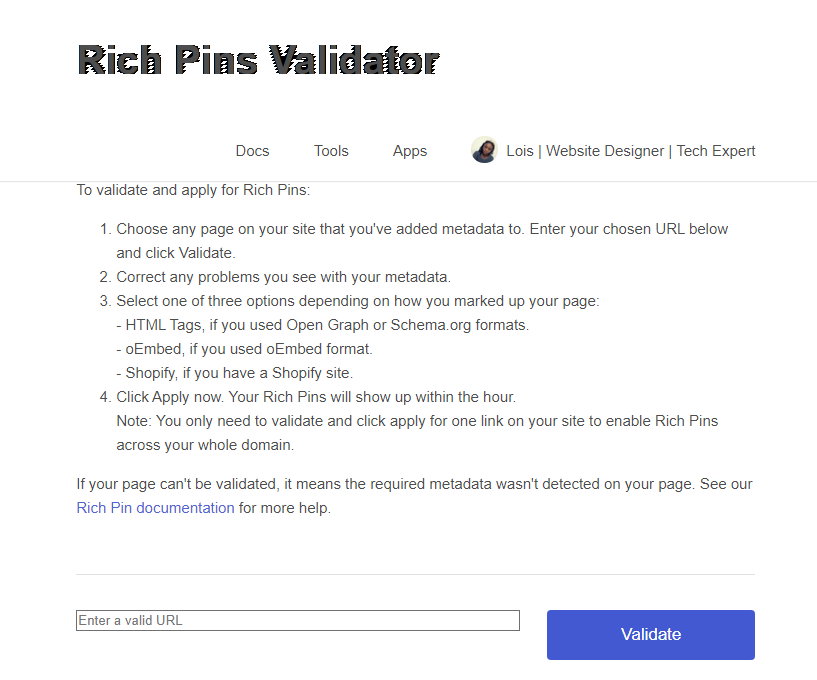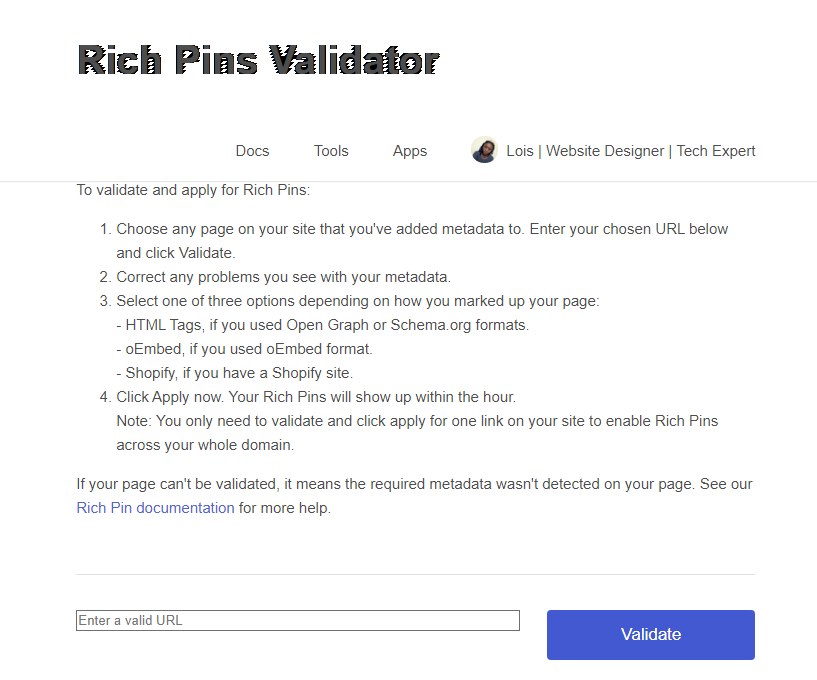 If your website is not self hosted on wordpress, I highly recommend that you do. As it will enable you to add more functionality to your website without writing a code. Plugins are your website friend. It makes your job as a website owner easier.
If you're interested in building your website on wordpress, check out this blog post to help you get started with ease.