Are you looking for a new way to earn passive income? Then learn how to make money selling canva templates
Passive income is amazing! All you need to do is design a digital product and start earning money.
Digital product are not like physical products, they are created and made available for downloads and so there's no need to continue to create more copies.
Canva Templates are a form of digital product. They are easy to create and can make your customers life easier while you earn some money doing what you love.
And that's the beauty of selling anything online. Creating a product that helps your audience solve a problem.
Whether it's creating an ebook template, a workbook, Printables. Canva Templates are valuable products that people are willing to buy.
If you want to create an additional income stream, you may want to consider creating and selling canva templates online.
Well today, let me show you how to make money selling canva templates on your blog.
When I started my blog, I realized how amazing and useful Pinterest was to the success of my blog and then I signed up for an account with canva and started designing canva templates for all my blog posts.
As a blogger mom I use canva many times a week. I love to create beautitful and captivating templates on canva.
Designing templates in canva is fun and exciting. Now wouldn't it be more exciting to earn a few thousands doing what you love.
And that's all I will be showing you how to do in this blog post. I want to show you how I got started, what I've learned over time and how you could do this also – Start making money selling canva templates on your blog.
What is Canva?
I know you're not asking that question dear momma.
But if you don't know, never mind I will tell you what canva is.
Canva is a graphic design tool. You can have zero graphic design skill and still create something amazing with canva.
Canva Templates You Can Make & Sell
Like I said earlier, canva is a graphic design tool used by everyone. You don't need to have a degree to be able to use canva.
Canva can be used to create high-quality documents such as:
Social media graphics
banners
Logo
Posters,
Flyer,
Ebooks,
Infographics media kit
Photo collage
Workbooks
Presentations
Resumes
and many other documents based on what your audience wants.
You can create canva templates based on what your audience needs and what you enjoy creating.
You can create many templates with canva and sell them.
Just make sure that your templates where created by you from scratch.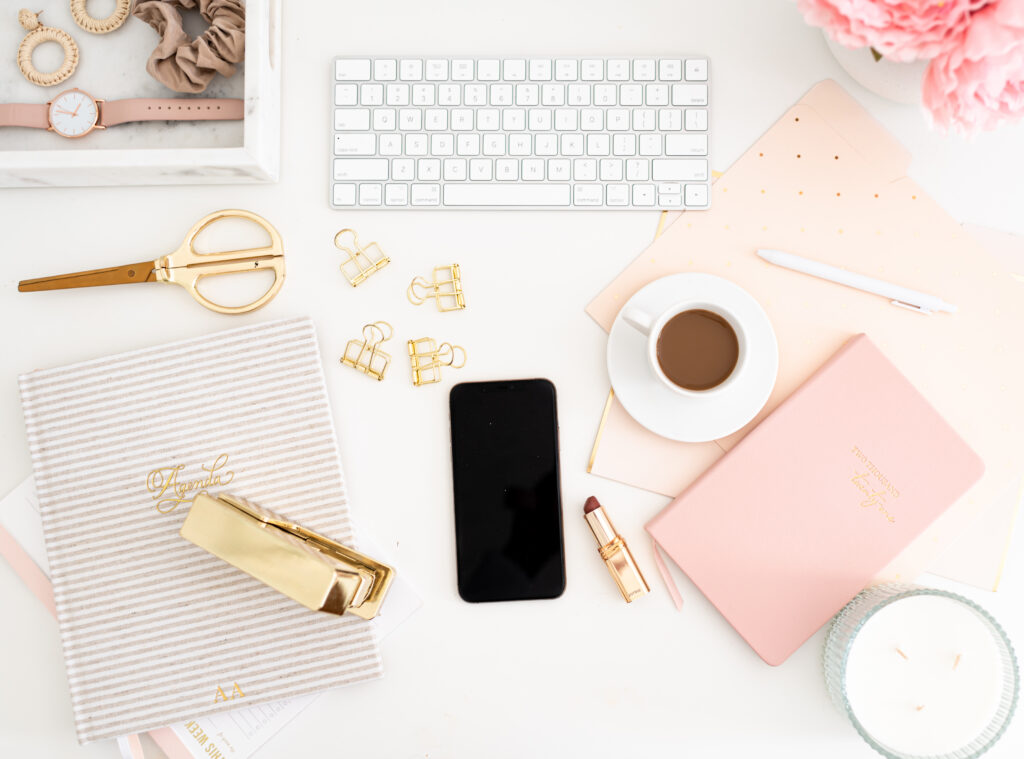 How Much Money Can You Make Selling Canva Templates?
There's no right or wrong answer and their's no limit to how much you can make selling canva templates.
I think the right question to ask rather is, what canva templates does my audience want?
Are you promoting your canva templates to the right audience?
Also, are you pricing your products properly?
And are your designs of high quality?
So if you create the right canva templates for your audience and promote it to them, then you will make money selling your canva templates.
How To Sell Canva Templates On Your Blog
There are many platforms that you can sell your canva templates or any digital product of your choice.
But I will be focusing on how to sell canva templates on your blog in this blog post.
So let's continue.
I will be focusing on how to sell canva templates on your wordpress blog.
Personally I prefer and use the wordpress platform, so throughout this article, I will use wordpress.
Set Up Your Website/Blog
So to sell canva templates on your website/blog, the first step is to set up your blog.
To sell products, you will need to set up a self hosted wordpress blog.
The process involves buying a domain and a hosting plan. There are many companies where you can buy domain or hosting from. But personally I recommend the following:
Domain from Namecheap
Hosting from Bluehost (note that bluehost will give you a free domain name for your first year). So if you have not bought a domain name yet, you can sign up with bluehost and save $15 which is typically how much domain names cost.
You can follow the steps in this guide to purchase your domain name and hosting from bluehost and also set up your blog.
Once you have set up your blog, you will need to install a theme that supports woo commerce – the eCommerce platform built with WordPress.
WordPress has thousands of themes but make sure to use a theme that supports woo commerce.
I personally prefer and recommend the Astra theme. Astra is a high-quality theme with woocommerce compatibility.
You can get the Astra Pro especially if you don't have the time to customize your site. I highly recommend the Astra Pro both for beginners and even intermediate bloggers. It will save you tons of hours. And the good thing is that it's also affordable.
Set Up Woocommerce
Woocommerce is the eCommerce platform built to work effectively and seamlessly with WordPress. It's a powerful platform with many add-ons as well.
Woocomerce is a plugin that you install on your self-hosted WordPress site. It's as simple as installing and activating any other WordPress plugin, but you need to do set up the woocommerce platform properly so that you can collect payments.
For more on how to set up Woocommerce for selling digital downloads please watch this video. How to set up woocommerce to sell digital downloadable products.
How To Make Money Selling Canva Templates
So let's look at the entire process of how to make money selling canva templates.
Step 1 – Sign Up For Canva
Sign up for a free canva account.
Do you know that before now, you will need to have a canva pro account to share your templates. But now every canva user can share and sell their templates.
The canva pro account has many more features, and you can sign up for it .
Step 2 – Decide On What Products To Sell On Your Shop
So obviously this is next step you need to take.
If you have an existing audience, you need to decide on what canva templates your audience needs and that will benefit them.
If you have a blog, and if for example you're a food blogger, you can design canva templates such a 30 Day Dinner Plan.
If you're a fitness coach, you can design a fitness guide, a 30 Days fitness guide and sell to your audience.
When you have an audience already, it's easy coming up with a product line. But even if you're just starting from the scratch, create products that will serve your audience.
Step 3 – Create Canva Templates
Canva has premade templates which you can get inspiration from and create your own templates.
Come up with your own designs and create your templates. Create beautiful designs that will appeal to your audience so that they will buy.
Once you have an idea of what you want to sell, design the templates. You can use the canva elements and fonts to design your templates as well as the products available on canva.
To be on the safe side, design your templates using the free canva elements and fonts so that if a customer only has the free account they can still use the canva templates bought from you without upgrading to the canva pro account.
Step 4 – Prepare how to deliver your canva templates
After creating your designs with canva, you deliver it to your buyers as a template.
Once you're done designing, you will need to do the following:
Get the sharable template link from the design
Create a PDF that will contain the sharable template link
Add the Sharable template link to the PDF.
Once you're done, and you've created a product, you'll set this PDF as a deliverable so that when someone buys a product, they will receive it as a PDF. Once they have the PDF, they can access the design.
Here are the steps:
Get the sharable Canva template link
After creating the product, while still in the design window of the product, click on the share button, and at the bottom of the section that just opened up, click on the arrow to open a dropdown. Then choose "Share a link to use as template".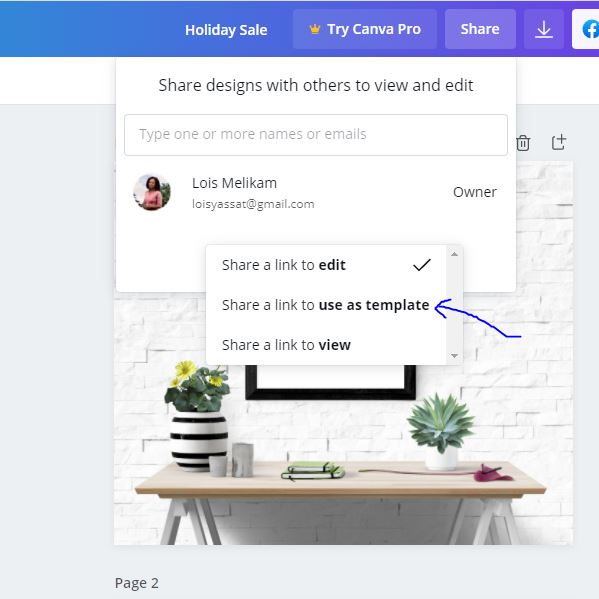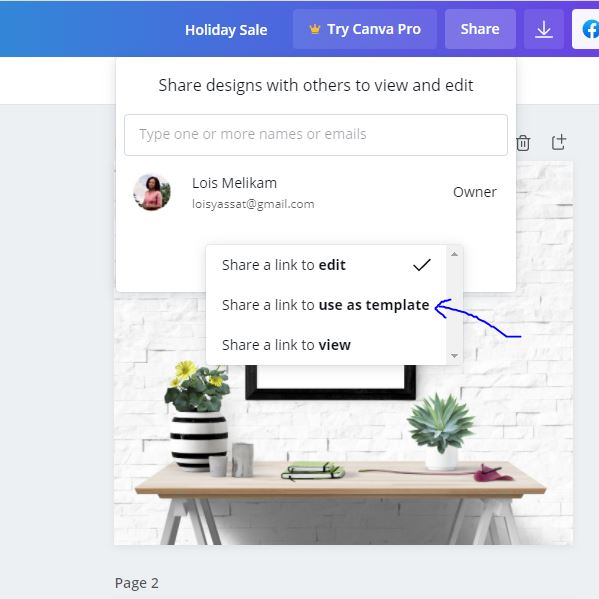 This is the link you will share with your buyers, when they click on the link, the template will automatically open and create a copy of the template in their own canva account.
Create the PDF and add the sharable template link
To create a PDF, search for "US Template" in canva. Start with a blank template. Add some text to the document, your logo and business info etc.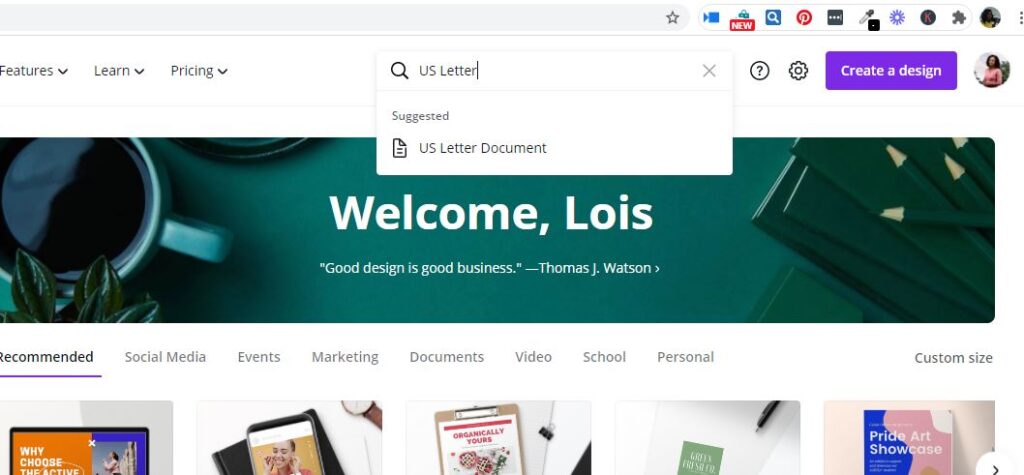 In the PDF you can add quick notes like "Thank you for purchasing this template". And then direct them to click the link to access the template.
How to add a link to your PDF document.
First hightlight the text ( the text could be something like, click here to access your template). Then click on the link icon from the editing menu, this will open up a pop up where you can enter the link you copied before (the sharable template link) click "Apply". This text is now a hyperlink, and once your buyer clicks on it, they will be able to open the canva template in their own account.
Once everything looks good, then you can download the document, and use the "PDF print format" to export it. Note that the link will only work when you save it as a PDF file.
Step 5 – Create Product Images
To make your products desirable by your buyers, create product images. Since your buyers cannot see the real products yet.
To create product images, you can use any of the following tools:
Adobe Photoshop
Freepik
Creative Market
Step 6 List Your Canva Templates For Sell
Now that you have everything, it's time to list your canva templates for sell on your wordpress blog. I will show you how to sell your canva templates with Woocommerce an ecommerce platform built for WordPress.
Add Your Products To Woocommerce
Adding a product is very simple. It's just like creating a new post or a page, but on Woocommerce you will need to add more functionalities like price, description, product images and set the product to be downloadable.
So here's a quick run down of the step to follow:
Go to your WordPress Dashboard click on Products > Add New
Add the Title and Descriptions. Woocommerce has two places where you can add the description for your product. The first description will show right beneath the product image on the product page. And the second description box is the one that shows at the top next to the product image, at the actual product page on the site.
Add Product Images. Woocommerce also has two places where you can product images. The first one is the "product image" which is the main product image that shows up at the shop, and also the larger image that people see on the shop. The second one is the "product gallery", here you can add 5 to 10 images of the product.
Set the price and make the product downloadable. Now if you scroll down you will see a section where you can set the price for your product and add the actual downloadable product. Look closely at the image below.


Make sure to choose "Simple Product" and check both "virtual" and "downloadable".
Under the "General" tab, set the price and add the actual file that your buyers will be able to download upon purchase.
You can also set download limit and expiry. But if you don't mind, you can leave it blank.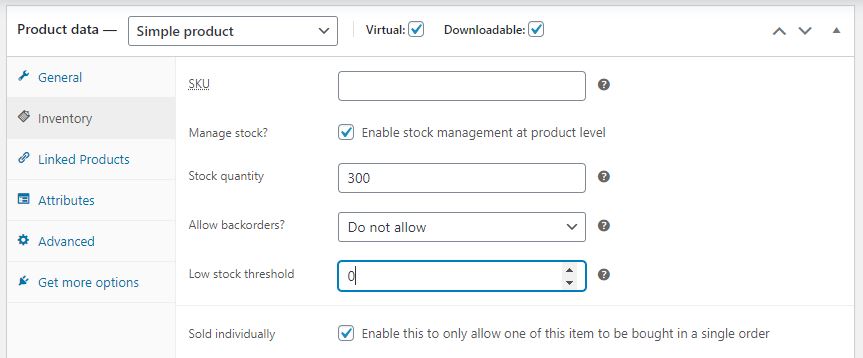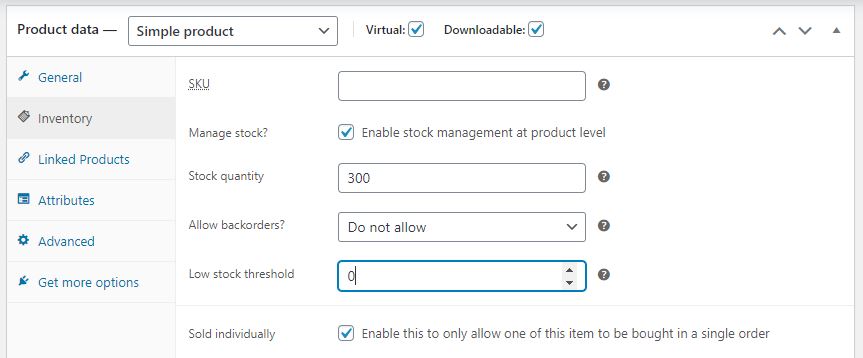 Under the "Inventory" tab, you can set up how many products you're selling. Since they are digital products, I don't think it's necessary to set a limit, but the choice is yours to make nonetheless.
Also, because these are downloadable products, there's no need to allow backorders.
Make sure you also check "sold individually" because no one needs multiple copies of a digital product and so that you can avoid having to deal with refunds which will take up your time.
Once you have added your product and set all functionality in place, you can click the publish button and your product will be available for purchase to others.
Step 7 – Promote Your Products
Your buyers are out there, so it's time to promote your products.
I personally use Pinterest to promote my blog. It's one of the best places to start.
If you don't have an account with Pinterest, you can follow the steps in this guide and create a business account on pinterest and start promoting your products and business.
With pinterest you need to create eye catching pins to attract pinner and get them clicking on your pins.
If you don't have all the time and need already made canva templates that you can simply customize and use, check out my shop page and grab these 20 Gorgeous Canva Templates and start promoting your business and blog.
How To Make Money Selling Canva Templates – In Conclusion
I will like to add a few points here.
Write Great Product Descriptions
This is where you get to describe the product, so give as much details as possible that is convincing enough to the buyer.
Who the product is for, what the product can be used for and how to use the product.
So let me know if you enjoyed this post and if you will start selling canva templates on your blog.