5 online business you can easily start today and make your first $100 online.
Starting an online business is one of the best decisions you can take today. It has a ripple effect and if you have been considering to start one for a while now, I will like to give you all the necessary boast you need in order to move from trying to take a decision and actually choosing one to easily start today. Like every business out there, you need a learning curve, but you will never learn effectively until you decide to start one.
Today there are alot to tools that have made it much easier to start an online business. You can also run your online business from anywhere, set your own schedule and work at your own pace. You also don't need a lot of capital to start an online business. You can start an online business without any money at all. For instance you can start a blog or website for free. You simply need a laptop and an internet connection.
So let's consider 5 online business you can easily start today with little or no money at all.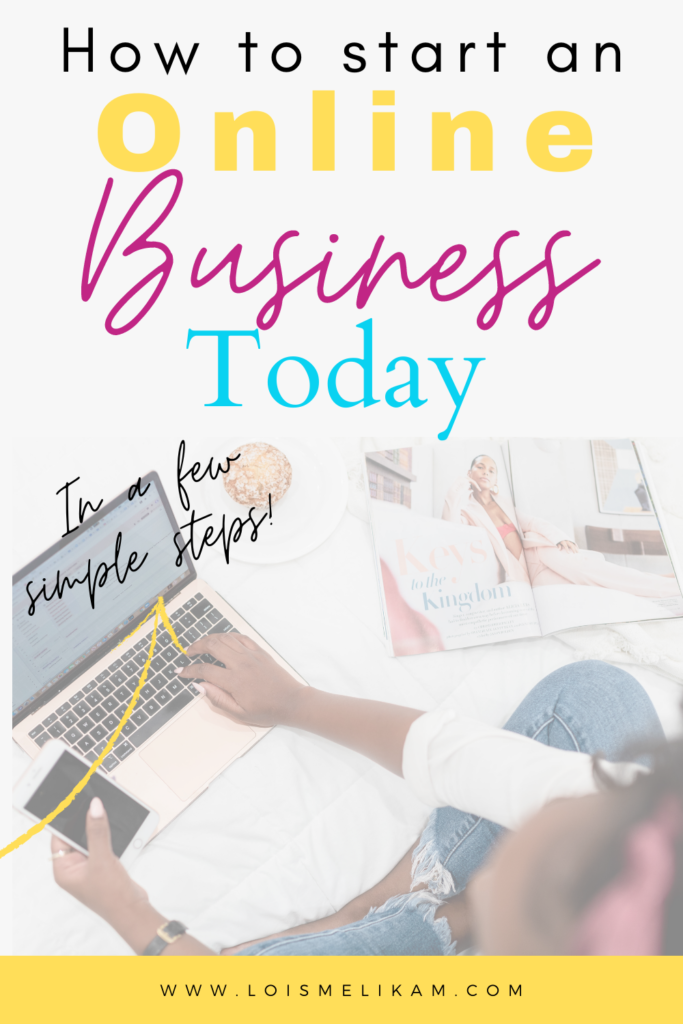 Affiliate Marketing
Affiliate Marketing is one of the easiest online businesses that you can start today. Affiliate marketing is simply picking a profitable niche for your online business and find an affiliate partner that has products in that niche. You can offer the products for sale on your website or blog with your unique link and when someone clicks through your link and purchases the product, you earn a commission. The commission you earn varies with different partners. But for digital products, you can expect to earn as high as 40%. So technically to start an affiliate marketing online business, you simply need a website or blog, or you leverage your social media accounts if you already have a large following by recommending products that you like or have used.
Follow this step by step guide and start your blog today.
This tutorial will teach you everything you need to know about affiliate marketing even if you're a beginner
Blogging
This is one of my favorite online business that you can easily start today. Perhaps the best, because your earning potential is huge, and your start up capital is also minimal and requires little or no technical setup. If you have a passion for a particular topic or find yourself continually sharing content either offline or online on a particular topic, then you should definitely start a blog. Your blog content can be written articles or videos, so you don't necessarily need to restrict yourself to only written articles alone. But if you have any intention of monetizing your blog which ideally should be on your long term goal, then you need to start your blog on wordpress.org not wordpress.com or blogger.com. You simply need a domain name and a host which you can easily get from bluehost the most recommended hosting company for beginners.
Google Adsense
When you visit a website, you see ads running on it. There's a high chance that those ads are being delivered by google and when you click through those ads, the blogger earns an income. But first of all to be able to run google ads, you need a blog or a website, you definitely can see why I said blogging is my most favorite and easiest way of earning an income online as your earning potential are definitely huge.
To place Google ads on your blog, the first step is to start a blog, write helpful content for your readers, when you start generating traffic, you then apply for google adsense and Media.net. Follow this tutorial and learn how to monetize your blog with media.net, even if you are a new blogger. This will help you make your first $100. When you Sign up, you get a 10% bonus on your earnings for the first 3 months
Online Video
Have you watched youtube before? Do you know that it is among the top three search engines today? When people are looking for information they either go to Google, Youtube or Facebook. So if you decide to put out content on youtube, you sure are on your way to earning a potential income online. You can share videos on your current skills, your passion, your lifestyle, how-to videos.
Your first step is to create a youtube account and start uploading videos. Then you enable monetization on your youtube settings. Which gives Google the go ahead to include short adsense ads on your videos, and when your viewers watch the ads or click through it, you earn.
Another way to earn from youtube is through paid sponsorship. When you build a large following on your channel, companies will be more than willing to pay you to promote or mention their products and services in your video.
Quick Tips To Start Your Youtube Channel
You can use your iphone, android phone or a video camera to record your videos and upload on your channel. Just ensure that the lighting is great and you're off to a great start.
Ensure your audio is clear. Try to record your videos in an environment that does not have noise.
Use Simple Editing Software. I know there are different types of editing software out there. You can simply edit your videos on imovie.
To get viewers easily, you should share your videos on your facebook page, instagram page, twitter and your other social media accounts, that way your followers know you have a youtube channel and if you provide useful and engaging videos, they will always look forward to it and even help share with their friends and then in turn you channel will grow and you begin to make money.
Information Products
Selling information products is one of the online business that has been around for sometime now and you too can plurge into selling information products. It is also one of the quickest and easiest ways to make money online. But first off, you might be wondering what is information products?
Information products are digital products like:
E-book,
Online course
Webinars
If you choose and create useful content for any of the information products above then you can be sure that it will continue to bring you passive income even while you sleep. All you need to do is to put the information on your website or blog and a customer can buy them at any time.
So, we're capping it up right here for today. And I would like to advice that you choose just one of these online businesses to start, don't try to dabble into all the 5 online businesses that I have shared in this blog post, as it can get overwhelming trying to juggle more that one when starting out. Start with one, when you have established a good routine and even started earning an income, you can then add others as additional stream of income for yourself. but stick to one, master the craft and you will definitely begin to earn.
If you need more helping hand on any of the 5 online business in this blog post, do share in the comment section and I will do my best to help.