One of the most common questions I have gotten via emails since I published my first blog post is how to start a blog. So in this post, I am going to show you the four elements of a profitable blog, and how to start a profitable blog with bluehost and get three years hosting for less than $120.
So what makes a blog profitable?
A blog is profitable if you are able to make money from your blog.
Do you know there are millions of blog, only a tiny percent make any money at all, and even less make a full time income blog, but for your blog to be profitable, you need to apply these four elements to your blog.
Niche
Design
Products
Authenticity and Authority
So I will explain how each of these elements contributes to making your blog profitable.
Niche
This is the very first decision you need to make if you want to build a profitable blog. It is very essential that you choose whom to serve. You can't serve everyone, and it is very easy to make money when you have a very small specific niche. Your niche is a combination of your skills, topics that you are knowledgeable about, that enough people need, and that you can charge a premium for it.
How Do You Find Your Niche?
Your niche is a combination of your obsession + Skill(for a specific audience)
So for instance, let's say I am obsessed with healthy eating, and I have a skill in nutrition, and my target audience is me, and I am a busy mom. My niche would be healthy eating and nutrition for busy moms.
Research On Your Niche
Researching on your niche will make you more knowledgeable about it and will also help you see if there's an existing market for it. Because if other's are already making money from your niche, there's every possibility that you will make money if you work towards monetizing your blog.
Design
One of the first things that will keep your blog visitors glued to your blog is your blog design. When I visit a blog and the designs are not appealing, I immediately leave. So your blog design must be simple and appealing at the same time. Your blog design does not need to be complicated, the more simple it is, the better. Your blog design should help your blog visitors navigate your blog easily. So figure out exactly what you want your blog visitors to do immediately they come to your blog, to read your blog posts, purchase a product, sign up to your monthly Newsletter.
Your blog design is essentially influenced by your theme, if you are a new blogger, and don't have all the funds to invest in premium theme, wordpress offer's lots of free themes. I know it can get overwhelming trying to choose from the theme directory. For this blog I currently use the "Chic Lifestyle theme" and I love it. The customization is very much easy and I can do so much with it. Feel free to check it out and ofcourse use it if you love the design like me.
Your Own Products
For you to have a profitable blog, then your blog must have your own products that your blog visitor's can buy when they visit your blog. It can be an e-book, a course, a digital product, a service. It's your blog and you have every reason to create your own products and sell it on your blog, ain't nobody coming to do that for you. And it's more juicy and merry when you create your products because you get to cut the shots, and not rely solely on some meagre ads to earn money from your blog, so put on your CEO hats, get creative and sell something on your blog.
Authority And Authenticity
To be an authority in your niche, research extensively and write epic blog posts. Write comprehensive detailed guides, provide solutions to your blog readers, each blog post should offer a solution and your blog visitors should be able to take out something from each blog post. This will make them trust you more and they will keep coming back for more juicy blog posts. So don't be afraid to write a lengthy blog post, you will be seen as an authority and the go to in your niche. And you know the most interesting one, when you sell products either a digital product or a service, your blog visitors will be willing and ready to buy because they know that your product will be as epic as your blog post and they will be willing to pay you for your effort. So it's a win win situation here, epic blog posts is a must if you want to build a profitable blog.
As a you start your blog, make sure you apply these four elements of a profitable blog, and in a few months you will begin to earn a decent income from your blog.
Starting a blog is one of the most interesting and exciting choices that I made recently(this is actually not my first blog, but there's this certainty and joy that flows from this current blog). So I created this step by step tutorial to show you how you can start your own profitable blog, even if you aren't so tech savvy.
How To Start A Blog
1. Pick Your Niche
Your niche is actually what you will be blogging about. It could be about Food, Health, Lifestyle, Gardening, Home and Living or really anything that you love.
A simple exercise to help you brainstorm on a niche are:
What am I passionate about and enjoy talking about too? Do you stay up late at night reading up articles on this topic? Then this is what you need to write about.
What life experiences do I have, that I can teach? It could a skill you learnt from school, or a training that you acquired. You are qualified to write about your experiences.
Once you have a topic or two, it is time for you to start brainstorming the name of your blog. For your blog name, make sure it is something memorable. You can also use your names as your blog name, because you can never go wrong with your name. This is my best advice to intending bloggers because it gives you room for branding.
For example when I was coming up with names for my blog, I knew I would be talking about how to start a blog, drive traffic and how to monetize, and branding was upfront on my mind, so I had to use my names as my blog name.
2. Choose A Platform
I recommend starting your blog on wordpress.org. You will have more opportunities to customize your site and add as many relevant features as you would and also monetise your blog.
With wordpress.org you will need to have hosting. This is the server that will run your blog. So your hosting provider is your landlord, while your domain name is the address of your blog on the internet space. Bluehost hosting is the best hosting for new bloggers, it so inexpensive, because you are given a free domain for your first year, and you can get three(3) years of hosting for less than $120 (i.e $2.94 a month). This gives you the freedom to focus on your blog and not bother about paying for hosting until after three years. Talk about cheap bargain, you can't beat that I'm sure. So get your three years of hosting using this link.
There are more amazing benefits of hosting your site with Bluehost which includes:
Free Domain ( which normally will cost you $10-15 per year, but with bluehost it's free for your first year.
Free SSL Included
1 Click WordPress install
24/7 Support
3. Set Your Blog
Like I mentioned earlier, this is actually my third blog, so I have been in the blog industry for sometime and bluehost hosting is one of the best. I am going to walk you through how to set up your blog on bluehost
Why Choose Bluehost?
#1 recommended web hosting by WordPress.org. Every account features 1-click WordPress installation.
Free SSL Certificate: Every website hosted at Bluehost is given a free SSL certificate. Protect your website visitors with one click.
24/7 Support: Trained, in-house experts are here to help 24/7. Our robust help center includes guides, video tutorials and more
Their uptime is awesome. One of the worst things that can happen to you as a blogger is to have your blog down. Siteground has 99.9% uptime.
Why You Should Start A Blog
I believe everyone should start a blog this days. If you have a passion and the drive for something, and you want to share it with the world, then blogging is for you. By all means, start a blog.
So let's get started.
First, click here and visit bluehost.com so you can get started. Click on "get started" button, as seen in the image below.
Step 1. Select Your Plan.
The first plan is "Basic Plan". This is the best plan if you are just starting out, and it costs $2.95 a month! This package includes:
One Website
50GB webspace
unmetered bandwith
So choose which plan is best for you and click on "Select".
Step 2: Choose Domain
So here, you have two options, to register a new domain(remember it is free) or use a domain you already own. If you are registering a a new domain, remember to make your domain short, and easy to remember and if you are not using your name as your domain name, then the name of your blog should be relatable to what you blog about. So type in your domain name, and click on the button "next"
Step 3: Review And Complete Your Account
So here you enter your account information
Enter Your Account Information
Package Information
So here you choose how many months hosting you want, you have the options to choose 12 months, 24 months, 36 months and 60 months. I will advice you to choose 36 months, you get a good bargain for your money, and will not worry about paying for hosting for the next 3 years, I mean that's a huge gain there, so maximize it for the better. If you choose 36months, which I strongly advice that you should, you get to pay less than $120 for your blog, until after three years
Package Extras
So here you have the option of adding additional packages to your hosting account, I don't choose any extra package, but if you feel you need too, select the box and continue.
Enter Your Payment Information
So here you enter your credit card details, and then
Check the box that says: I have read and agree to the bluehost terms of service and privacy policy and also check the second box as well. Then click submit.
Wow!!! Congratulations you now have hosting for your blog. The next thing you need to do now, is to install wordpress. Bluehost will email you your login details.
So once you receive your login details, go to your user area, bluehost.com and login. Login with the email address and password you used while setting up your hosting.
INSTALL WORDPRESS
To install wordpress, follow these steps:
When you are in your cPanel (you will receive a link to this in your welcome email from Bluehost), find the Install WordPress button under "WEBSITE" and click it.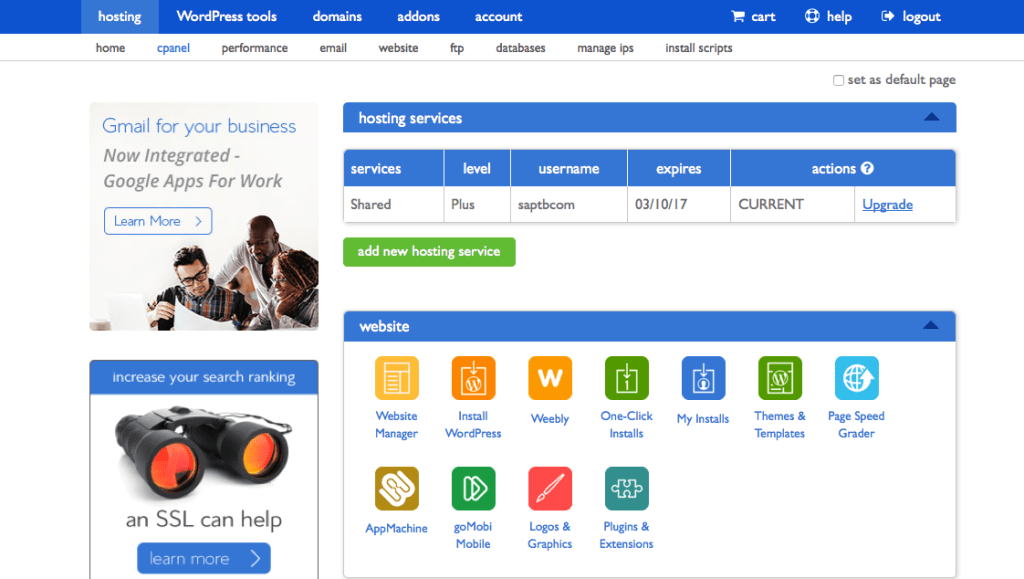 Then you will be directed to the Mojo Market Place. Click on the green "Install" Button.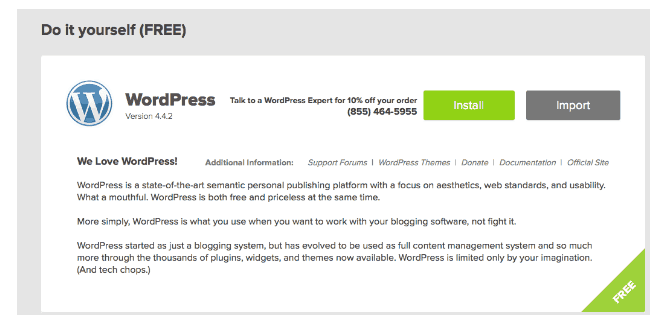 Then select your domain and then click "Check Domain"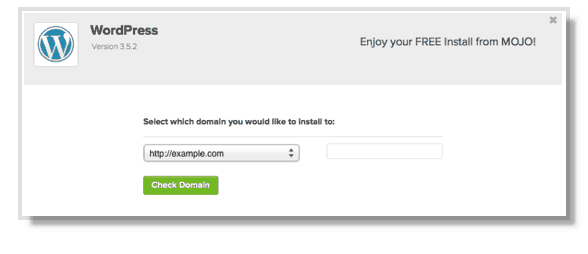 Next, you will fill in your site title and information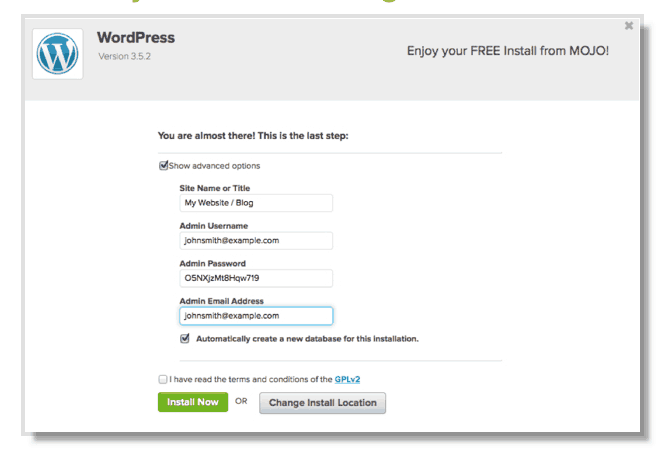 Then click install and then Mojo will go to work to install WordPress on your account (Remember to

Now using the username and password you just created go to http://www.yournewblog.com/wp-admin (your domain) and login!
So congratulations, you now have your own blog…. Welcome to the blogsphere…
Happy Blogging
Lois…
BLOG INSTALLATION SERVICE
Are you passionate about blogging, and itching to start your blog immediately, but you feel overwhelmed, I offer blog installation services for $10 and I will setup your blog for you.
To get started, use this link: My Bluehost Hosting to get your Bluehost hosting package discount.
*note you must be a new customer and use that link to get my blog installation service.
That link gives you a free domain, discount on hosting at $2.95 per month, free email and free security SSL certificate, too.
Once you've got that registered, send me a copy of your receipt at hi@loismelikam.com, along with your new Bluehost login details, and I will get to work.