Are you interested in learning how to start affiliate marketing in 2021? This guide is for you. It includes everything you need to know and to start affiliate marketing this year.
When I earned my first $295 from affiliate marketing a few months after I created my website and had a few blog posts, I was wowed. I mean just like that, I did not deal with the process of producing and packaging the product and here I was smiling so wide at the first few dollars I made from affiliate marketing.
But all this did not happen over night, I did some work and here I was reaping the benefits of it all.
And I know I will keep earning more money from the strong foundations that I have layed.
So you should start affiliate marketing today, because everything you do will pay off eventually if you put in the work.
How To Start Affiliate Marketing in 2021
Have you tried researching how to start affiliate marketing? You will see so many testimonials of people like you who are making lots of money from affiliate marketing.
Now the thing is that these are not overnight successes, it's not a get rich quick scheme, they put in the work and they are earning big.
So if you want to start affiliate marketing now and make huge money, you simply need to start now, lay the right foundations and you will also be a success story as well.
My success with affiliate marketing is growing and I love it. I want to be real with you and that's why I am talking to you this way.
Affiliate marketing is one of the best ways to make money online for anyone. Even if you're a total newbie to the online business world, you can make money from affiliate marketing.
Even if you're a stay at home and you're looking for how to make money online, you can make money from affiliate marketing.
Why Start Affiliate Marketing in 2021
Affiliate Marketing is a good business model and a win-win situation for both the owner of the product and the affiliate marketer.
An affiliate marketer helps the owner of the product make more sales and the affiliate marketer makes a commission from getting sales through their affiliate link.
If you're interested, skilled or passionate about one type of product, or a course that you have taken. You can tell other people about this product or thing and make money doing so.
Do you have a blog or website?
Are you active on social media regularly?
Is there a particular niche you have so much knowledge about or are passionate about?
If you said yes to any of the above, then you can start affiliate marketing in 2021 to make passive income and scale it to a full time business.
If you do not have a website or blog yet, then you need to follow this guide and create your own website. It shows you every step you need so that you can set up your website correctly for monetization this weekend.
You can start affiliate marketing if:
If you want to leave your 9-5 job
You want to start your own business
You want to explore your passion and make money from it
You want to add another income stream aside from your day job
You're a stay at home and wants to make money online
You simply want to make money from home and be your own boss
Being able to work from home so I could raise my children, while making more money online than an employer would pay me, were my main reason for getting into affiliate marketing.
And I am so thankful that everything worked out well.
Benefits of Starting An Affiliate Marketing Business
Affiliate marketing is a very lucrative side business and can even become a full time business if you handle it well.
Some high ticket affiliate programs will pay you anywhere between 50-80% of the sale and some are recurring.
Once you set up your affiliate marketing business and start promoting a proven product to the right niche, you can build a thriving, and scalable income.
It can be lucrative and scalable.
You can start at a low cost.
No expertise is required.
Once you do the work upfront, you can keep earning passive income even while you sleep.
You will have an independent, flexible work-life.
You don't need to create your own product to make money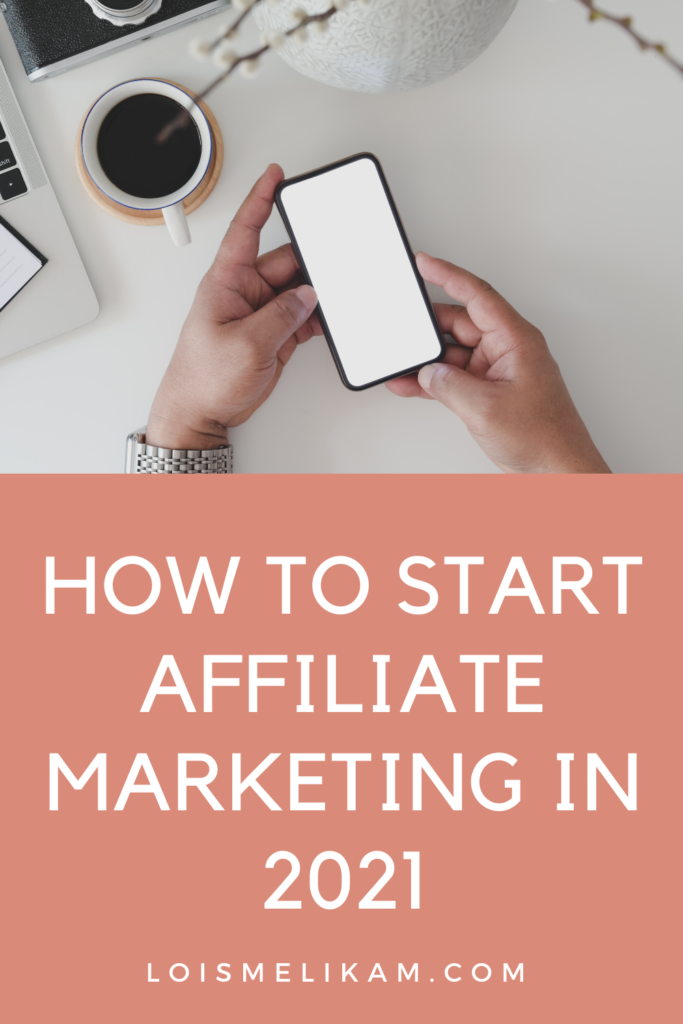 How To Start Affiliate Marketing in 2021
Now that you've known what affiliate marketing is and the benefits you can get from the business, let's look at the steps you need to get started.
1. Choose A Niche
Before you choose a product, you need to choose a niche that you know or are passionate about.
Affiliate marketing works best when you choose one area to work in and position yourself as an expert.
Another thing to consider is, is there money to be made in that niche?
While I am an advocate for, follow your passion, but if your passion will not make you money, then you need to think out of the box and choose a more lucrative niche.
2. Find An Affiliate Product To Promote
There are a few ways to find affiliate products to promote;
Search big affiliate networks like clickbank, shareasale, JVZoo
Buy a copy of the affiliate program database.
Think of products that you use and enjoy already. These companies could have an affiliate network and would be easy for you to promote them because you already know and believe in them.
When searching for affiliate networks to join, consider the following;
The product has a high average sale price so you make a good amount per sale.
Click on the product to check if it has a professional sales page. This is what the customer will see initially and you want it to be good.
Click on the product to learn more about the product. If it has more promotional tools that you can use and what others are saying about the product.
3. Decide On A Traffic Channel To Promote Your Product
There are different ways you can start affiliate marketing in 2021 and promote your products.
One of the ways is to build a website and start creating valuable content on your blog.
Make sure your website is easy to navigate and loads easily so that you don't lose potential customers.
Increase the SEO of your site by:
Include inbound and outbound links
Optimize your website for mobile
Insert and improve your metadata
Make your articles informative and content rich
Install a WordPress plugin like Yoast SEO which will analyze your each article and give you tips on how to improve SEO
The good thing is that it's not essential to have a website to start affiliate marketing.
Other channels to promote your affiliate products for free are on social media:
Youtube: Video content is fast overtaking regular written word and will continue to grow in popularity. Starting a niche channel around your product is a great way to go. Over 5 billion videos are watched a day on youtube!
Facebook: Facebook has remained one of the largest social media platforms where your potential customers can easily be found. Create your own Facebook page or group centered around your niche and start promoting your products.
Instagram: Instagram is another great platform if you already have a great following. But you can still grow your followers and then promote to them.
4. Start Creating Informative Content Regularly
Once you have your product, niche and chosen traffic channel, start producing great content that will position you as an expert in that field.
The goal here is to be consistent and produce content in the form of video, blog posts, social media posts daily.
This will build your brand and attract potential customers to you.
You can also produce great content that will address your customers pain points, issues or concerns.
How to posts, list posts and long form guides are great contents to produce.
After creating your content, you should be promoting them on social media.
This will get people to follow you if your content is great
Also join other facebook groups in your niche and engage with others.
Post informative posts, answer questions. If you help people, they will check out your profile and want to know more.
How To Start Affiliate Marketing in 2021 – In Conclusion
I know by now you have seen how to start affiliate marketing in 2021 with the right tools and foundation for success.
You need to lay a strong foundation for your affiliate business and keeping on it by producing helpful content and never give up!