Learn how to point nameservers from Namecheap to Bluehost.
Did you purchase your domain from Namecheap or any other domain name registrars? The next step you should take is to point your domain name to your web host. So in this blog post, I show you how to point nameservers from Namecheap to Bluehost. This process applies to any web host as well.
Usually, when you sign up for a new Bluehost account, you get a free domain name for your 1st year. So typically you don't get to pay for your domain name for the 1st year when you purchase hosting from Bluehost.
Namecheap is one of the most popular domain name registration services and then bluehost is one of the best hosting companies for building a website.
Bluehost also offers other additional services like
A free SSL certificate
Free WordPress Install
24/7 support
Look I love the bluehost company and how easy it is to create a website with bluehost.
If you want to create a website or a blog, then follow this tutorial and create a website and use bluehost as your hosting company.
But let's say you already purchased your domain name from namecheap, you can easily point your domain name to bluehost by following the steps in this guide.
Every hosting company comes with a specific nameservers, and you need to make sure that you update your domain name registrar to point to the web host.
This is also very easy to do so don't panic at all.
Note: This step can be used to point nameservers to any web hosting companies, the locations might be different but the process is the same thing.
How To Point Nameservers From Namecheap To Bluehost
So now let's connect namecheap domain to bluehost.
The bluehost nameservers are:
ns1.bluehost.com
ns2.bluehost.com
Now first login to your namecheap account so that you can update the nameservers.
Login to your namecheap account and click on "Domain List" on the left panel.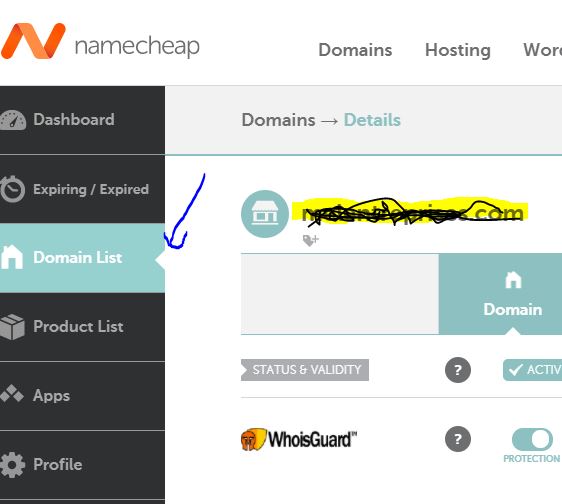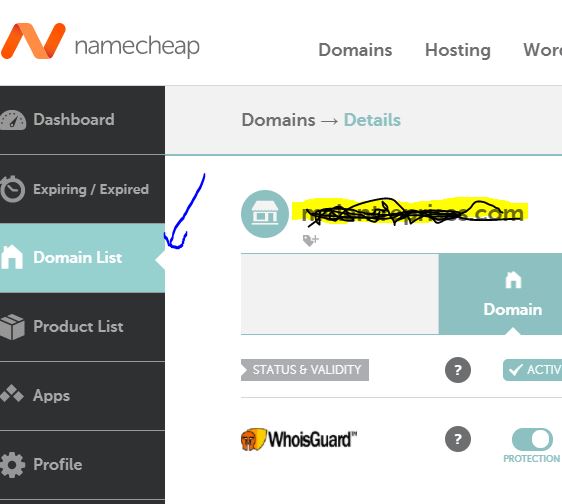 All the domain list in your namecheap account will be listed.
Now click on "manage" beside the domain name you will like to point to bluehost.

You will be taken to your domain name management page.
Scroll down to the section that says "Nameservers" and select the "Custom DNS" option from the dropdown menu.
Now the nameservers tab will show and you can add the custom nameservers.
The bluehost nameservers are:
ns1.bluehost.com
ns2.bluehost.com
So add them and this will point your domain name to bluehost servers.
This also applies to if you're using any other web hosting company. All you need to do is to find the nameservers of the web host and them to the "custome DNS" section of namecheap.
When you are done, click on the blue check mark and that will save your nameserver changes.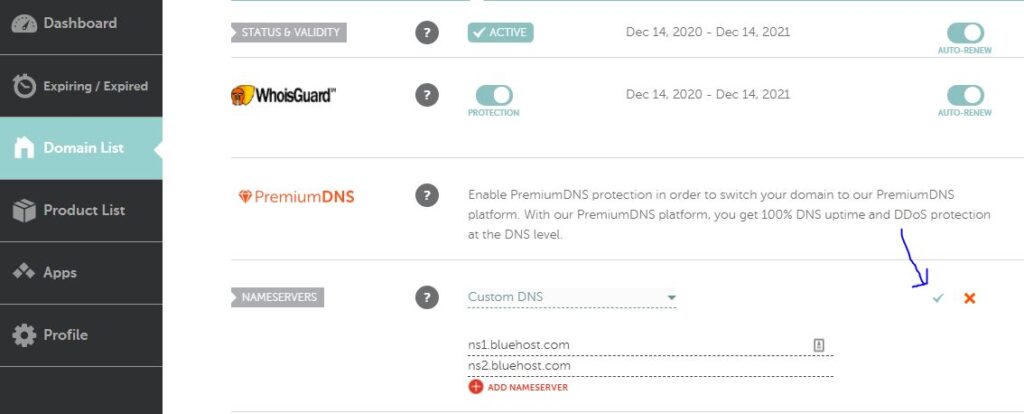 It takes a few hours for the changes to be effected, so don't freak out if your still opens to the default namecheap page.
I do hope that this has helped you to point your nameservers from namecheap to bluehost.
If you need more tutorials like like this do let me know in the comment section below.
And don't forget to share this with your friends on facebook, pinterest, instagram and twitter.
Also follow me on Pinterest.