Want to start a mom blog and make money online? I see you mama. Here's a step by step guide of how to start a mom blog and make money in 2021.
Starting a mom blog is one of the best decisions that I made for myself and my family.
I started my mom blog a little over a year ago and it's been such a beautiful experience for me. Learning all the blogging tips as a mom while making money from my creativity is one of the best feelings in the world.
I love being a mom, and the times I have spent working on my mom blog have been so rewarding.
For everytime I see a mom struggling to support her family financially, one thing that comes to my mind quickly is to whisper to this mama to start a mom blog and make money blogging.
Blogging have changed my life and I know I want that for you as well mama.
And in this blog post, I will show you exactly how to start a mom blog and make money blogging.
You can make money from your blog if you put in the time and effort to grow your blog. If you're wondering if you can just look at some mommy bloggers who are making money from their mom blog. They started out just like you too and have grown their blog, earning significant money every month.
If you want to start a mom blog, don't worry its easy and don't need to be techy. I will walk you through the process with Bluehost in minutes.
So let's get started.
How To Start A Mom Blog And Make Money in 2021
Step 1 – Figure Out Your Niche Niche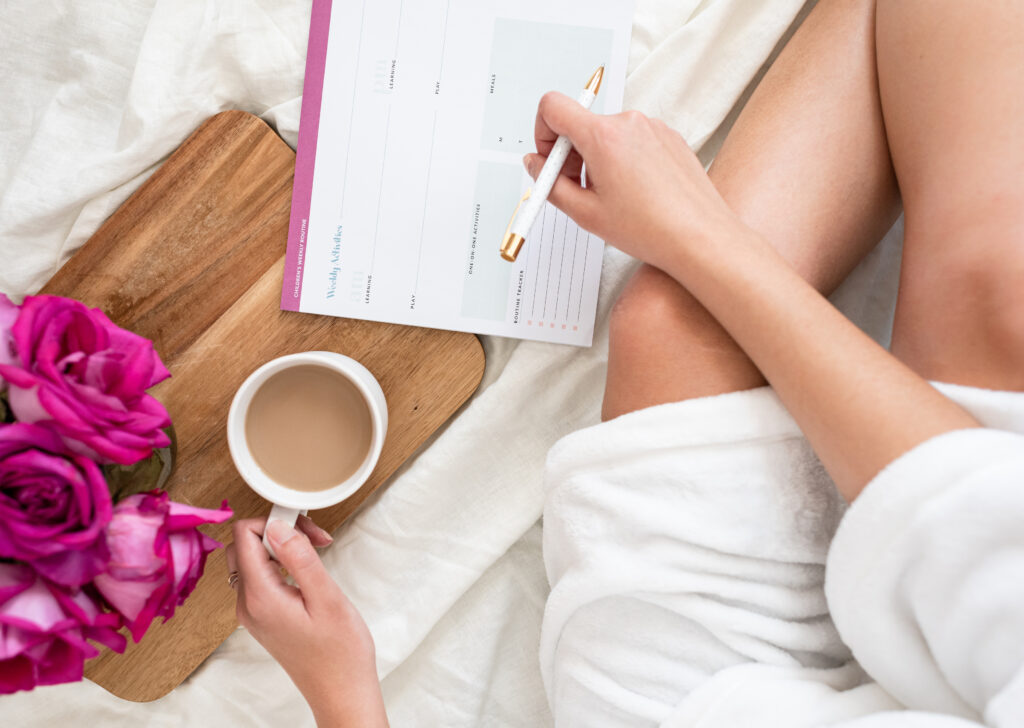 Choosing a blog niche when starting a blog can be one of the hardest step in blogging. This can be a challenge for a lot of people, and trust me I struggled too.
Do you blog about what you're passionate about?
Do you blog about a popular topic that many people are interested to know about and that will make you money?
This list can go on and on.
But here's my advice and even a good one from many successful bloggers as well. If you want to blog for the long run and enjoy it, then better to blog about what you are passionate about and that interests you as well.
When you focus on your blogging about your passion even if it's a saturated niche, the following will happen:
You enjoy the process
You don't give up
You enjoy learning new things
You enjoy every achievement
Success comes naturally
You are patient
So how do you find your passion?
For me, I found my passion after creating content consistently and I saw that those topics resonated with me and I enjoyed the entire process of learning about them. My creativity side just blossomed each time I wrote a blog post because it was fun and fulfilling for me.
I love writing tutorials on blogging tips, online business, side hustle ideas and make money online.
I want you to figure out your niche in a simple way.
What do you spend a lot of time thinking about?
Something that you enjoy doing, reading or hear about.
Is it Parenting, Baby gears, Photography, or DIY stuff? That's your niche!
Can You Monetize It?
So after you have figured out your niche, decide how you want to monetize your blog. You can monetize your blog with Affiliate Marketing, Advertisements, Sponsored post, sell digital products or offer services. It can be a combination of two or three, so don't put yourself in a box.
Some Examples of Profitable Blog Niches
Cooking And Recipe Niche
People are always on the look out for a good recipe. So if you enjoy cooking delicious meals for you family. You can as well start a food blog sharing your recipes on your blog. You can niche down to vegan recipes, cakes and desserts, Juices, smoothies, kid friendly recipes. The cooking and recipe niche is one niche that you can always come in with your own twist and your audience will warm up to you. You can learn more about starting a food blog here
Good examples of Food blogs: Stay snatched
Parenting Niche
Parenting niche is definitely a profitable blog niche. Parents love to spend money on their children. You can share your experience as a mom and monetize your blog with affiliate links of your fave products and also place ads on parenting blog. Some popular topics in this niche includes: Homeschooling, kid activities, Baby and many more.
Successful examples of parenting blogs: Scary Mommy Mothering
Personal Finance Niche
The personal finance is a very popular niche, because there are people who always want to get their finances together. Some popular topics in this niche includes: Budgeting, Money-saving, Money-making, Investing and more.
Successful examples of personal finance blogs: Making Sense of Cents, The Penny Hoarder
Health And Fitness Niche
A lot of people are paying close attention to their health and also spending money on general body improvement this days. People are online always searching for answers to wealth loss, Smoothies, Yoga and more. There are lots of topics to write about on the Health and fitness niche and you can always start a blog sharing your own knowledge too.
Successful examples of health and fitness niche: Nourish Move Love, NatashaPehrson,
Lifestyle Niche
The lifestyle niche focus on sharing their personal experiences on a wide variety of topics. In the Lifestyle niche, you can talk about parenting, fashion, travel, food, beauty, and more in one blog.
Successful examples of lifestyle niche: Grow With kachi, Mattie James, Ijeoma Kola
DIY Niche
The Do It Yourself Blogging niche has grown popular in recent years. They focus on alot of things teaching you how to do several things yourself ranging from home improvements, sewing, crafts and more.
Successful examples of DIY niche: The Flooring girl, Torera George
Any blog has the potential to make money, however the blog niches I mentioned above tends to be more profitable.
So in choosing a blogging niche, try and choose a topic that you're interested in and that falls in any of the profitable blog niches.
Step 2 – Choose A Blogging Platform
This site is a WordPress.org site and I will walk you through how to start a wordpress.org site.
A wordpress.org site requires hosting and this post will show you how to set up your hosting using Bluehost.
I encourage starting a blog on wordpress because:
You have more options to customize your site with WordPress using plugins and many themes to choose from (both free and paid).
You can easily monetize your site.
Step 3 – Choose A Domain Name
This is the fun part, now you need to choose a domain name for your blog. What will you name your blog? Your domain name is what your visitors will type into the search engine and visit your blog.
Make sure your domain name is short, simple and easy to remember. I will also suggest trying to get a name with the .com extension is it's very popular and common as well.
Just make a list for now, once we get into starting a mom blog, I will show you how to get your domain name for free.
You have come a long way mama!, it's now time to create a blog.
Step 4 – Start A Blog With Bluehost
When starting your blog, it's best to use a reliable and secure web host. Bluehost is one of the best and reliable web host out there. It is also recommended by WordPress and of great value.
Reasons Why You Should Choose Bluehost
Here are four main reasons why you should start your blog with bluehost
1. You Get A Free Domain Name
Bluehost gives you a free domain name when you sign up using my link. This saves you about $15 and it's a win if you're budget is tight right now.
2. Automatically Installs WordPress
No need to click a button. Bluehost does it for you behind the back and you can start your mom blog in minutes.
3. 24/7 Support
If you have questions or a problem their customer service is readily available to answer and solve all your problems. You can choose live chat or phone support. I personally use live chat and they are swift to respond and solve all my concerns.
4. Affordable for new bloggers
This is one of the reasons why I love Bluehost. You can start a mom blog even if you're on a budget.
Bluehost have made it supper affordable for new bloggers and when you use my link you can get 60% off.
When you compare this to how much you will start making from your blog, it's one of the best decisions you can make for yourself mamas!
Starting my blog a year ago is one of the best decisions that I made last year.
And you too can do this mama.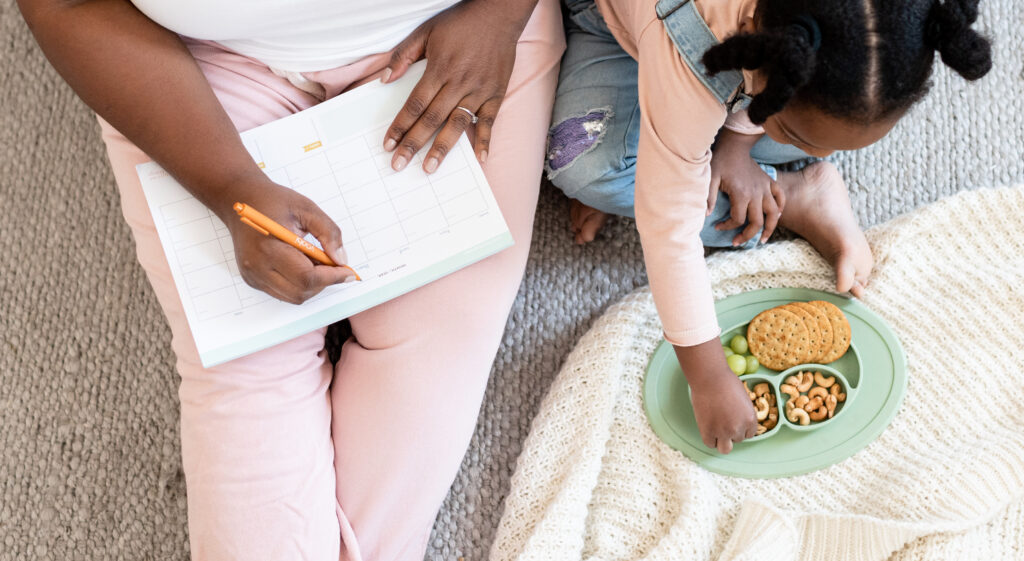 How To Start A Mommy Blog Using WordPress
So first to get started, Click on this Bluehost link and follow me as I show the steps of how to start a mommy blog using wordpress. The link will take you directly to bluehost website. Then click on "Get Started" button on the bluehost page.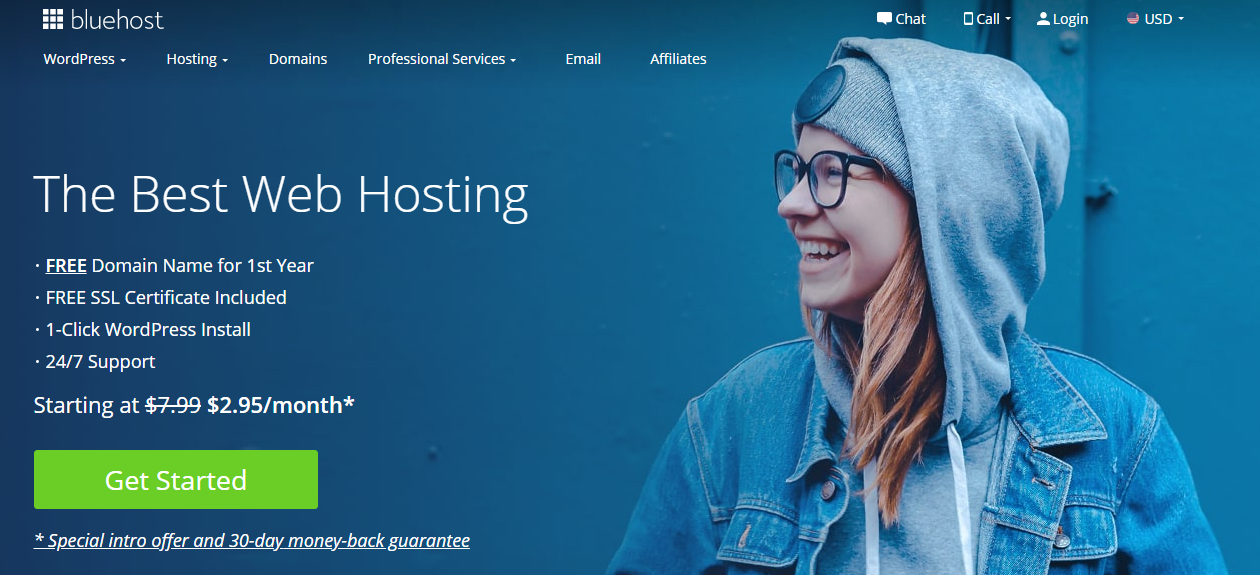 Step 1 – Choose Your Plan
Bluehost has three (3) plans for you to choose from:
The Basic Plan
The Plus Plan
The Choice Plan
The Basic plan has everything you will need to build a single blog. But if you want to create multiple blogs like me, then you would need to choose the Plus plan and host as many blogs or sites as you wish on it.
With the Plus you can host unlimited domain and also have unlimited storage space for all your.
But if you're new to this blogging thing, then the Basic plan is a good place to start and has you covered.
When signing up for your hosting account with Bluehost, you can save more when you choose 2 – 3 years up front. And you will not have to pay for hosting for the next 2 or 3 years.
Now click on the "Select" button of any of the plans and you will be taken to the next step.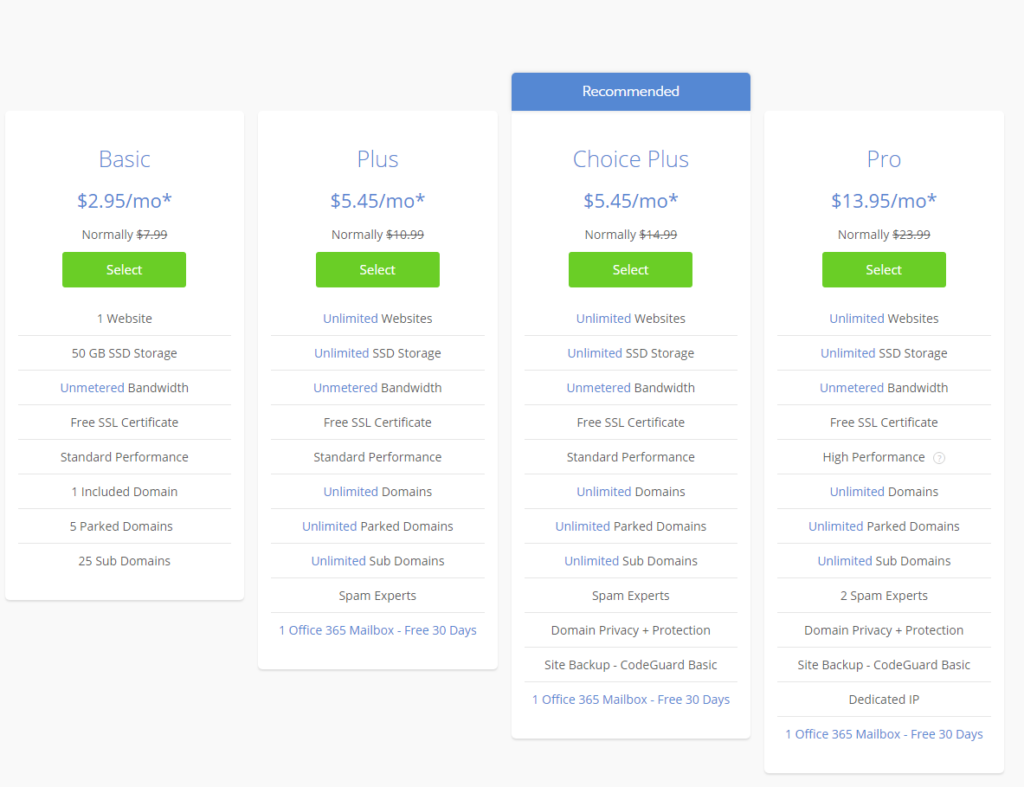 Step 2 – Choose Your Domain Name
Remember the little exercise we did earlier, where you had to scribble down a list of your domain name. It's now time to use it.
Your domain name is what people will type into their web browsers to visit your site.
My domain name is loismelikam.com. That's basically my name. I didn't want to be lost in the sea of trying to come up with a domain name. And I am also building my own personal brand, so I figured out that using my name will be the best option.
But do what works for you. A domain name is still a domain name. Don't hesitate to start a blog because your spending time trying to choose a domain name.
Now here you will either use an existing domain name or pick a new domain name.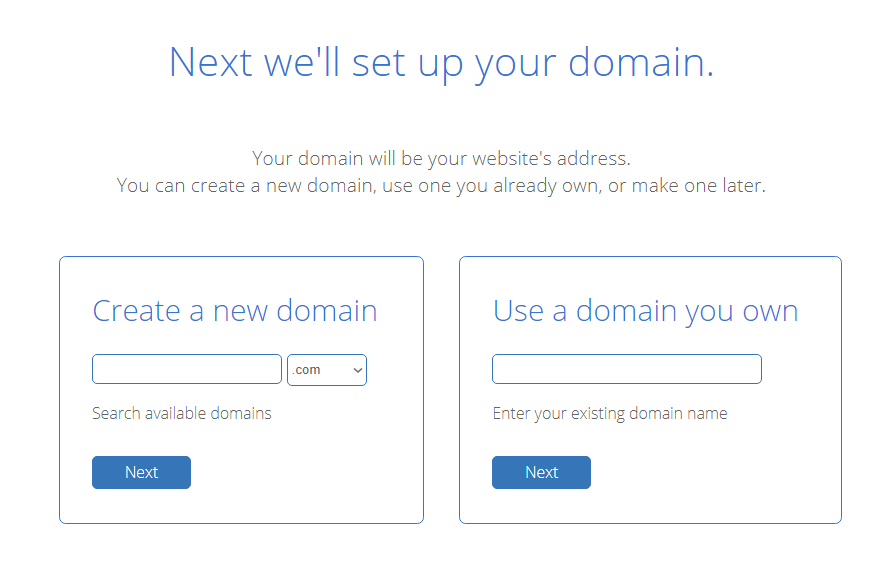 Type in your domain name, and it will check if it's available.
Pick a domain extension like .com, .net, .org. But I suggest you pick a .com since it's easier to remember.
If your domain name is available, click "next" and go to the next step. If it's not available, click on "I will create my domain name later".
Step 3 – Fill In Your Account, Package and Payment Information
Fill in your account details correctly.
Remember you will save more money by choosing 2-3 years with your plan. And you will not have to think of paying for your hosting plan for 3years.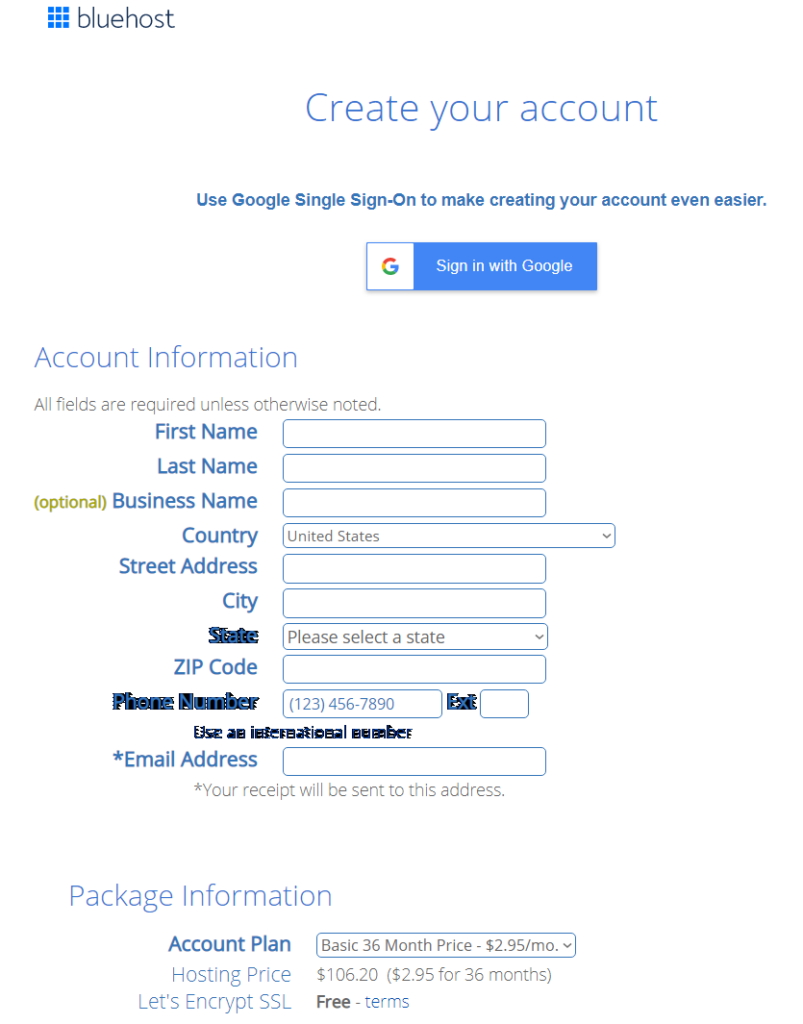 You can pay with paypal or credit card.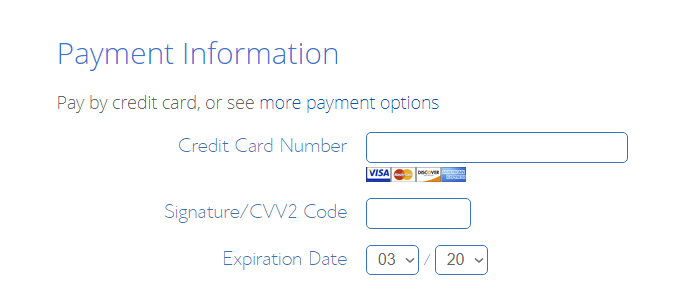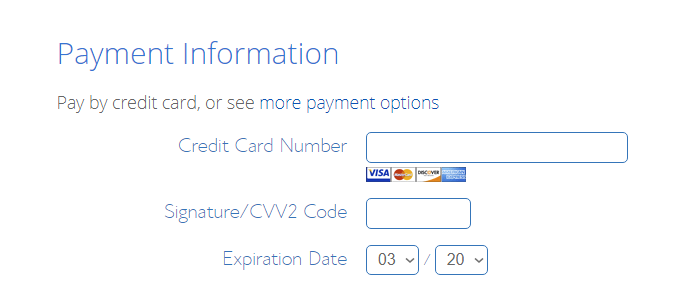 Scroll down and tick the box to agree to the terms and conditions and then click on submit.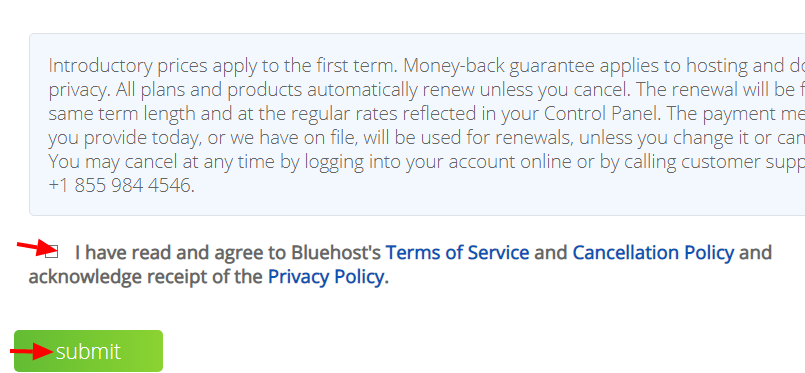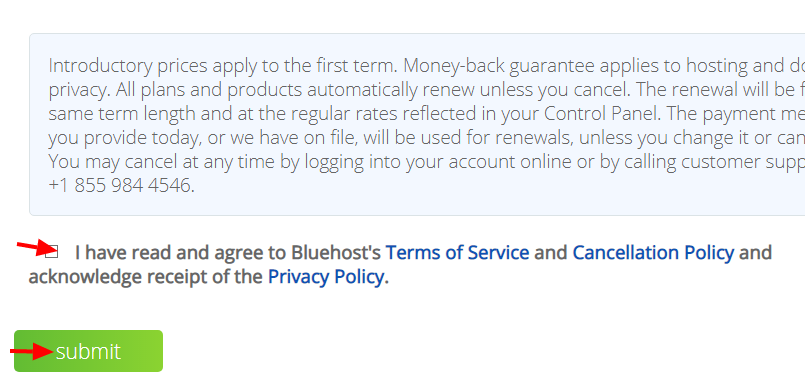 Click Submit.
Once you pay for your hosting, you will see this screen.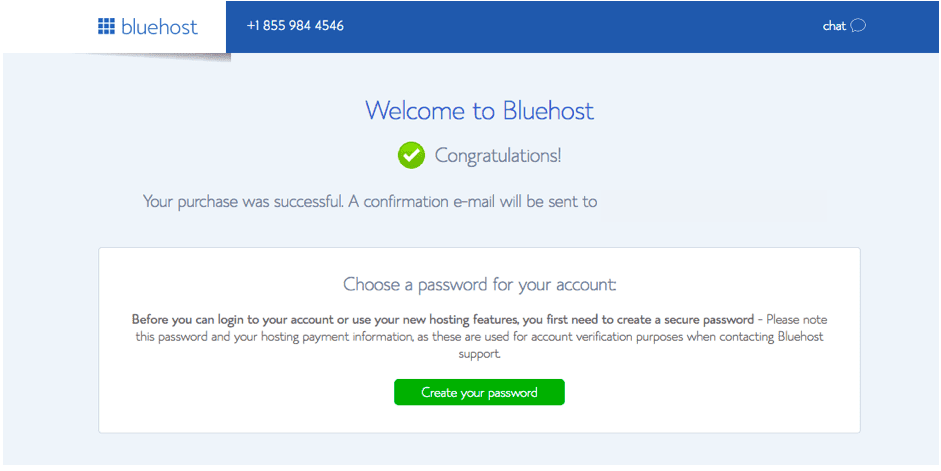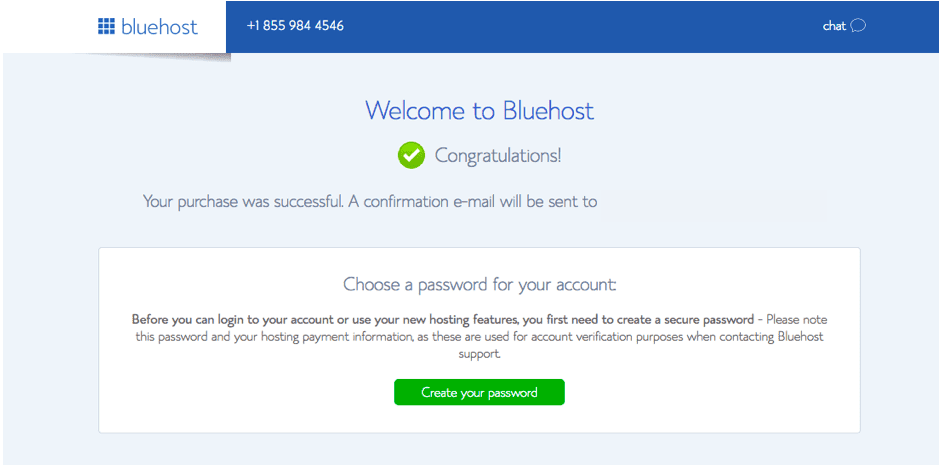 Check your email, bluehost will send you a welcome email confirming your account and FTP information.
Whoop whoop whoop, and that's it, your website is now hosted on bluehost. That's a great feat!!
Next, create a password for your account. Make sure you follow the guidelines for creating a password and also write it down somewhere, as you will need it to login.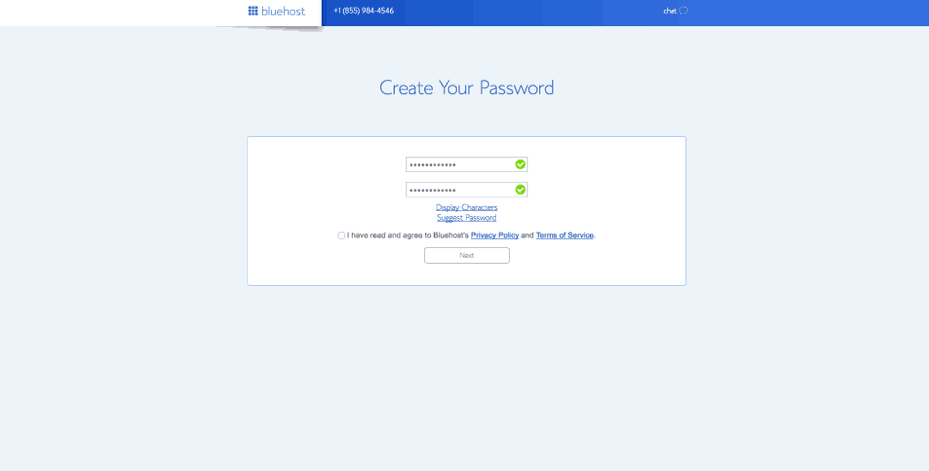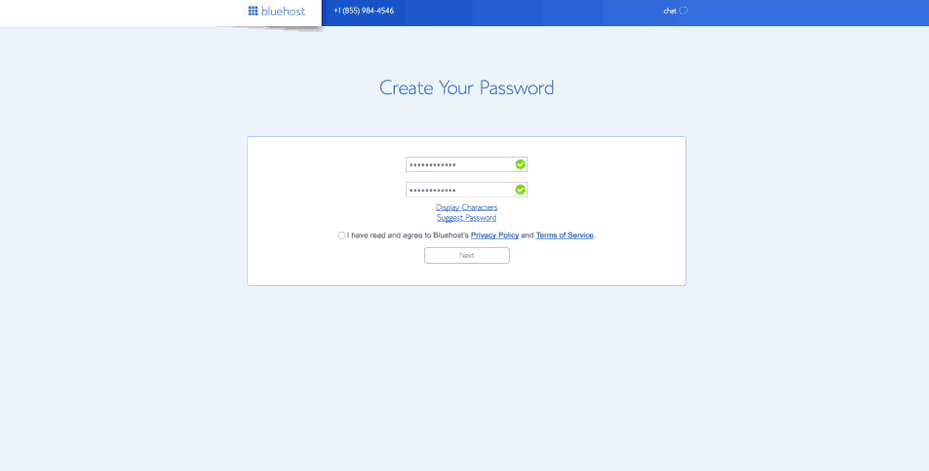 WordPress Is Installed
Remember when I said earlier that Bluehost automatically installs wordpress for you and you don't need to lift a finger.
When bluehost installs wordpress, they also install a default wordpress theme. But you can change it later, and start writing your blog post.
Step 4 – Login To Your New WordPress Blog
Bluehost have made it very easy to login to your blog.
To login to your new wordpress blog, check your email for the email that you received from bluehost, and you will see a link to login to your new wordpress blog and start writing your blog post.
Congratulations You Have Your Blog
I remember how excited I was when I new started my blog. It was a thrilling experience for me and I can't wait for you to explore the many opportunities that comes with having your own blog and making money online.
I will be updating this post with more content to help you build a profitable blog.
I will like To Hear From You.
When you set up your blog, don't forget to use my special link to save up to 60%, tell me about it and make sure give me your link. You can email me or leave a comment.
Sharing is caring. Please share this post and follow me on pinterest to get more juicy content.