Monetize your blog with media.net advertising. You can monetize your blog with cost per click ads.
You may be familiar with Google Adsense, but have you heard of media.net advertising? You can monetize your blog with media.net advertising.
Media.net gives you access to Yahoo! Bing Network, one of the world's largest marketplaces for keyword-targeted advertisers. So, no matter how broad or niche your website is, your content always has relevant advertisers for the taking.
Media.net is a leading global advertising technology company that develops innovative products for both publishers and advertisers. It provides the full spectrum of advertising and traffic monetization solutions to its large, diversified client base worldwide, and has one of the most comprehensive ad tech portfolios in the industry.
After publishing my eleven (11) blog posts, on my blog, I am ready to start monetizing my website immediately.
Here are my first eleven (11) blog posts on this website:
How And Why I Started Blogging
I started blogging because I enjoy blogging and there are always several tap opened in my brain throughout the day brainstorming on what topic to blog about.
I would say blogging about online business, work from jobs, and make money online topics comes natural to me and I thought why not just start blogging on these topic and that was how I started blogging. Because I was tired of having all this taps open in my head without anyone reading them.
Blogging is a creative outlet for me, and I am happy I can blog.
I purchased my hosting on 3rd February 2020, because I was determined to succeed with my blogging business this year and I set out with a goal of publishing at least one blog post a week and so far I think I have done well in not falling in my goal.
My Blogging Monetization Strategy
My blog is currently my side hustle, as I still have a 9 to 5 job.
So I started blogging to make money and part of my monetization strategy for this blog includes:
How I Monetize My Blog
Affiliate Marketing which I am already implementing
Ads – Exactly what I will be teaching in this blog post.
Online Course: I am currently working on an online course and will let you all know when it's ready for purchase.
So if you just started blogging or considering to start a blog, you can monetize your blog with a combination of the options I listed above.
I know that creating an online course takes a while and so I decided to start monetizing my website with affiliate marketing and ads.
How To Apply To Media.Net
Applying to medi.net is quite easy and just takes a few minutes. To apply, visit media.net click on the sign up button at the top right corner, a form will pop open, fill in your details and submit.
After applying, it takes about 5 business days to get approved. But mine took about two business days.
How To Get Approved As A Media.Net Publisher
Traffic Minimum : None
Website Language Requirement : English
Restrictions : No adult, pornography or illegal content. No tabacco, alcohol, ammunition, hazardous substances. etc
Payout : Paid Monthly via paypal or bank transfer – $100 minimun
Advertising Type : Contextual, Display
Offer Types : Cost per click (CPC)
How To Create Ads For Media.net
From your dashboard, go to plugins, click add new, search for "Media.net Ads Manager" install and activate the plugin.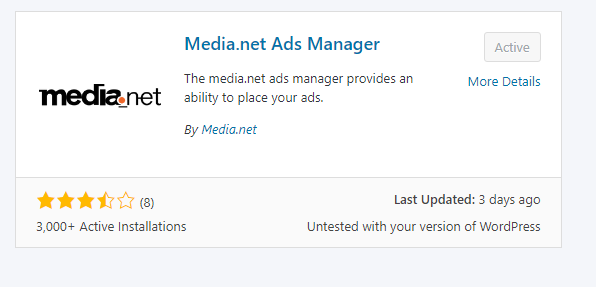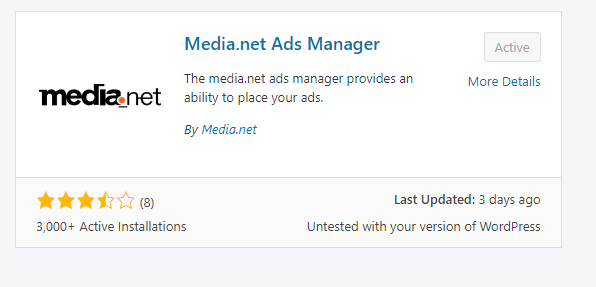 After installing and activating the plugin, you will see the Media.net Ads Manager tab on the left side of your wordpress dashboard. Click on it and you will see a login that will pop up like the image below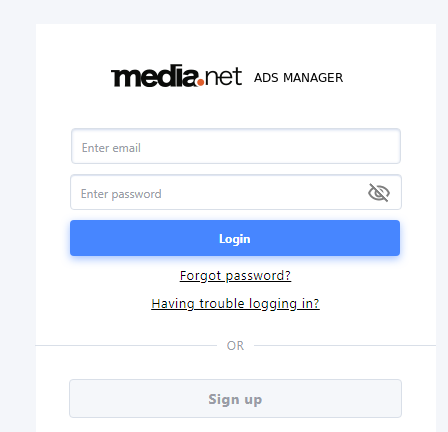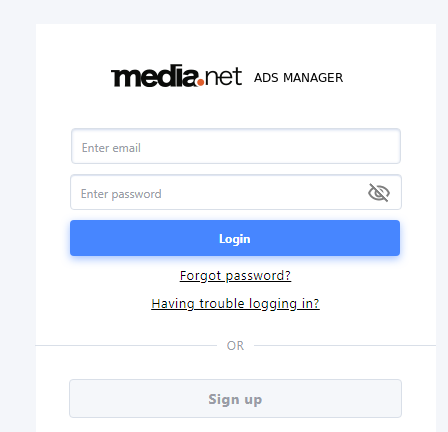 If you successfully got approved into the media.net program, then login with the email and password you used to create your account.
Once you login, you will a window open like the one below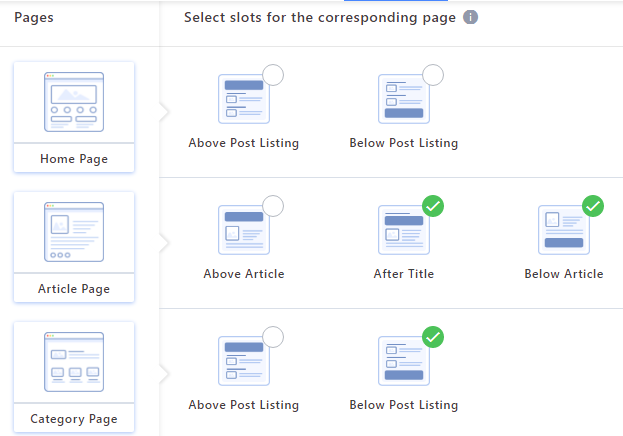 So with media.net publisher plugin, you can configure the ads to show at relevant places on your blog and also the location that you want. So you simply tick the pages and locations that you want the ads to show.
Next you scroll down and click on "Enable Ads"


And automatically ads will start running on your website.
So you don't need to copy any code. The plugin is all that you need to run media.net ads on your website.
Like I always say, there's a plugin for everything. And that is why I recommend building your website with wordpress as you get to add more functionality to your site even without writing a code or being techie.
Do you want to start earning passive income? Follow this step by step guide and start your blog and make money online.
You can also learn affiliate marketing after setting up your blog using this guide.