Congratulations you started a blog. With your new blog, there are so many things to focus on, but building a strong foundation for growing your number one focus. And in this blog post I want to show you how to install Google Analytics on your wordpress blog so that you can start making better data driven decisions.
Google Analytics provides the best way for you to know your audience and it's completely FREE.
In this blog post, I will show you how to install Google Analytics and how important it is for the success of your blog especially if you want to monetize your blog.
Here's a brief summary of what you will learn in this blog post
Why Google Analytics is very important
How to sign up for Google Analytics
How to Install Google Analytics Using MonsterInsights
How to view reports in Google Analytics
Let's get started.
Why Google Analytics is Important
As a blogger, once you start a blog, your number 1 focus is how to drive traffic to your blog, and this is where google analytics comes to play. It shows you the stats that matter in your website and how to make better decisions.
Google Analytics is essentially a web analytics tool that helps you understand and analyze your website traffic. It does this by adding a piece of javascript to your page, which allows google to track the activities of visitors coming to your website, and these activities are presented in the form of statistics in your own Google Analytics account.
Here's what you learn from the statistics:
Who visits your website
It shows you the geographical location of those visiting your website and devices they use to access your site.
What your visitors does
It shows you what pages they look at, your bounce rate(meaning the share of visitors who leave after just one page), and how long they stay on your site.
When they visit
Google Analytics also shows you exactly when people come to your site, by the hour, day, week or month.
How they find your site
You also see how your audience finds your website. Which search engines they are using like Google, Bing, Facebook.
How They Interact With Your Content
With Google Analytics you're able to see how your audience interact with your website. You see what links they click on.
Use The Information To Optimize Your Website
With all these information, what can you do with it? Well, you can do so many things like:
Optimize Your traffic sources- So if for instance your stats shows that your highest traffic source is facebook, then you invest your time in sharing most of your blog posts on your facebook page or facebook group, and can even run facebook ads because that's essentially where your targeted audience are. Or you optimize other traffic sources which are low by sharing more on those platforms.
Improve your content and content strategy by giving your audience what they want.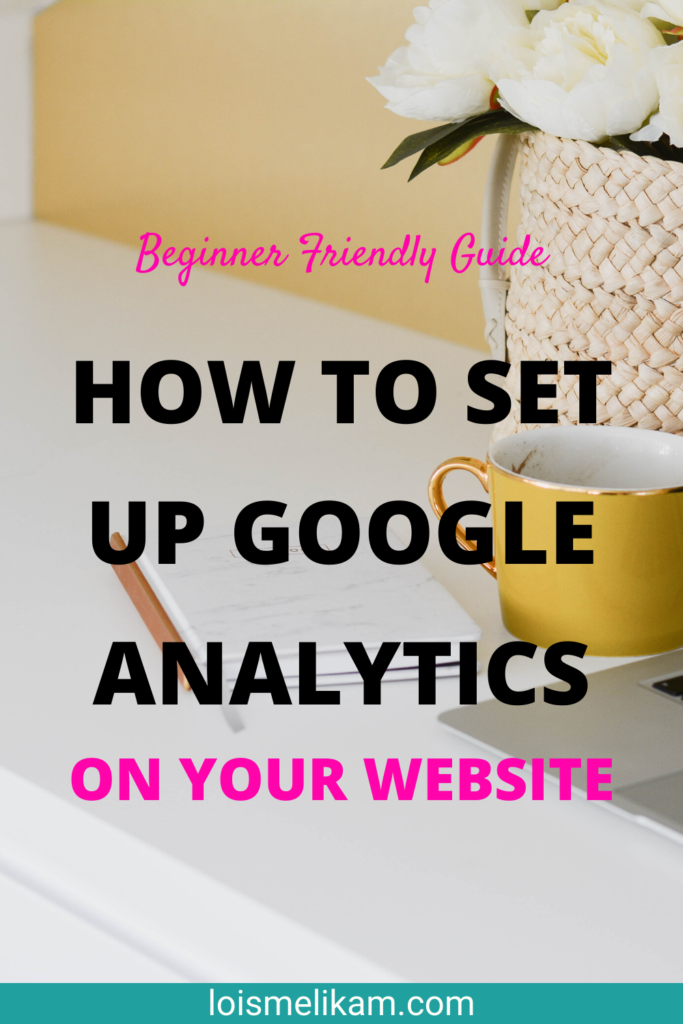 Step 1 How To Sign Up For Google Analytics
Google analytics is free and all you need is a gmail account to sign up. First you need to visit Google Analytics sign up. You will need to sign up with a google account or a gmail account. But if you already have a gmail account, you can use that to sign in.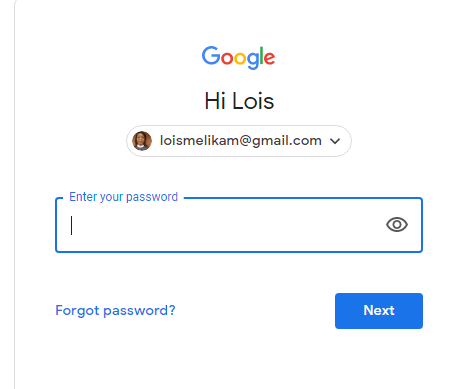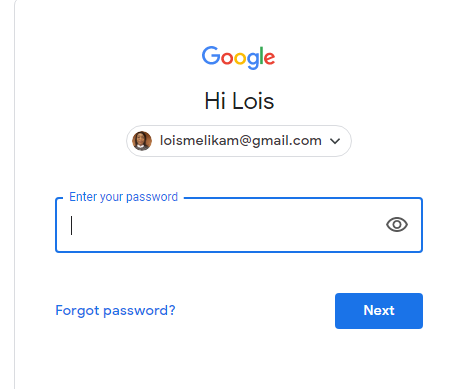 Step 2: Once you sign in with your gmail account. You will see a screen like the one below, and this is where you will sign up for google analytics with your gmail account.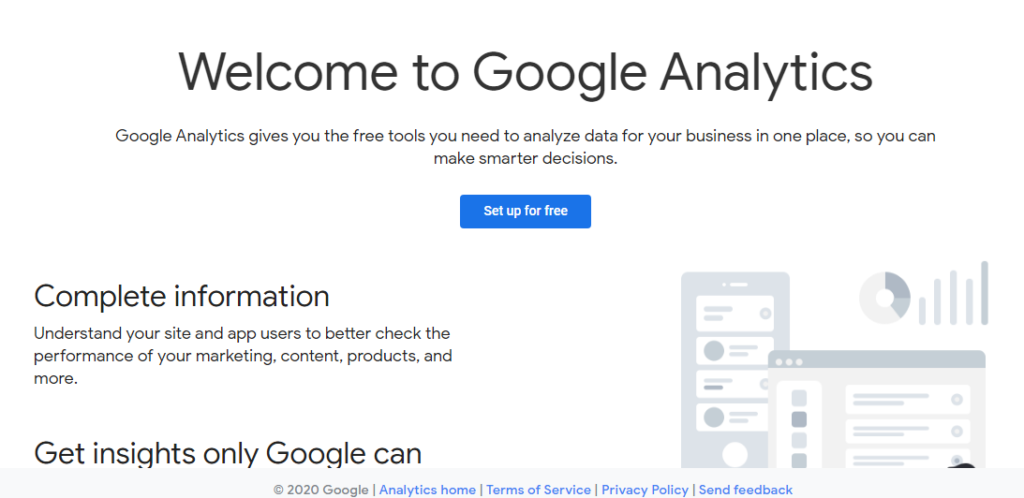 In the next screen you will be asked to provide your account name. You can use your blog name or business name as it implies.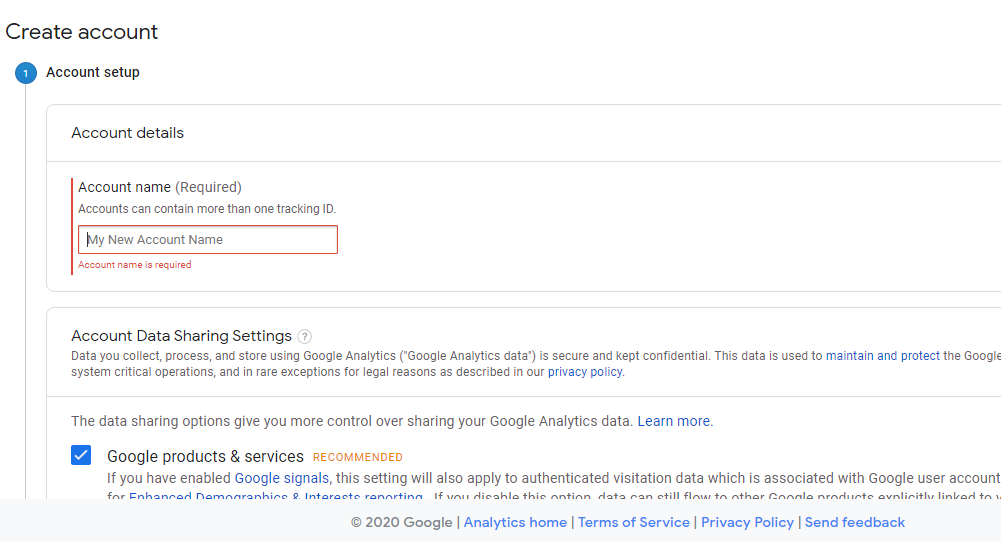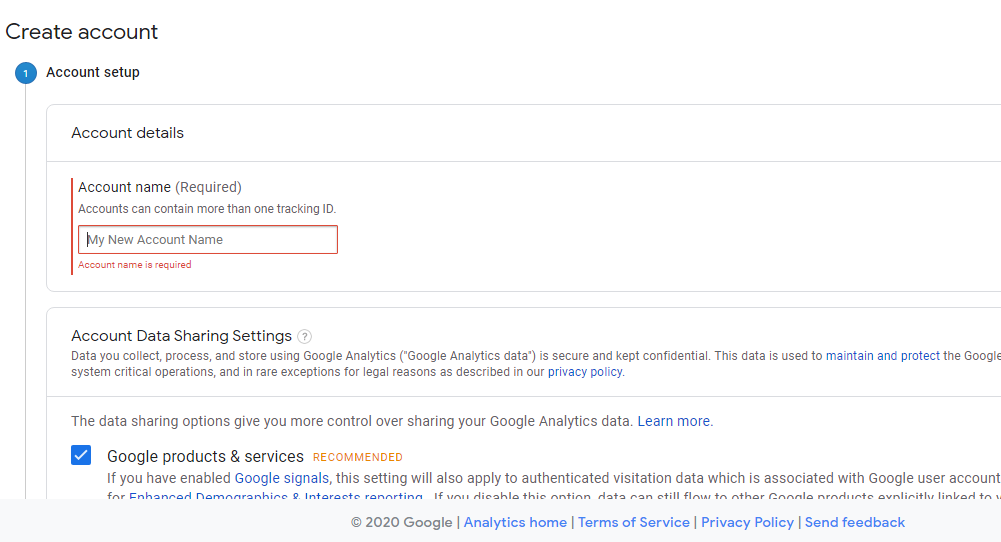 Step 3: On the next screen, you will be given a choice to choose between a website or mobile app. Make sure you choose website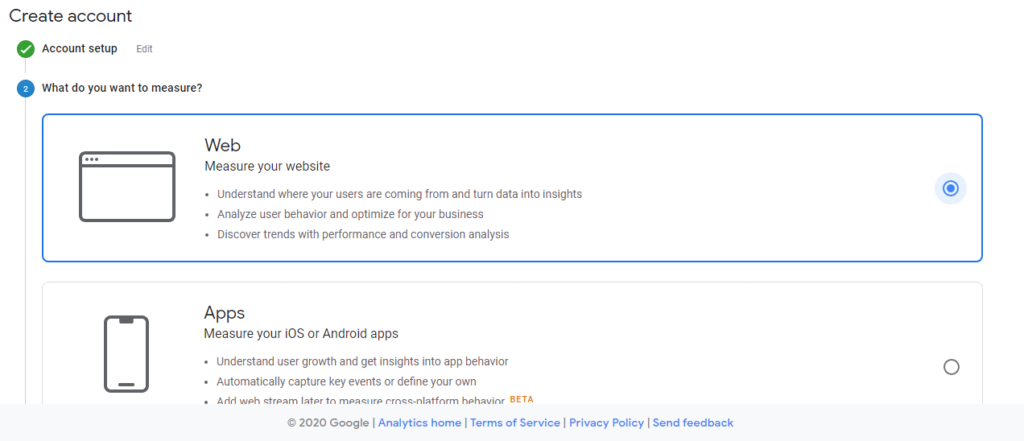 After that, you enter your website name, website URL, country and timezone.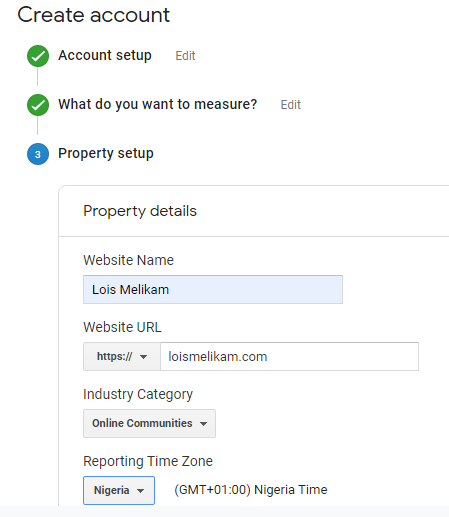 After the information, click on the "next" button, you will be presented with Google Analytics terms and service, which you must agree to, so click "I agree" button.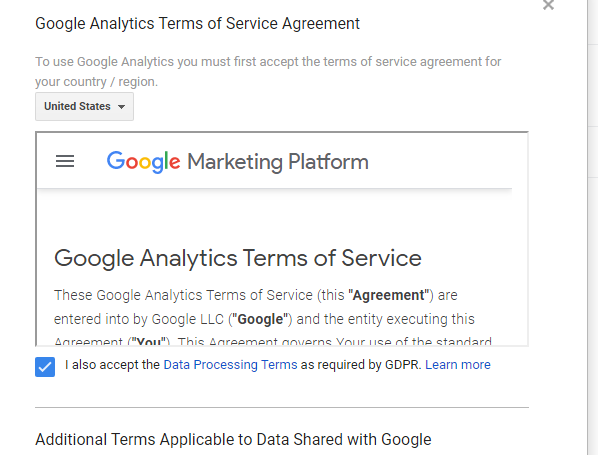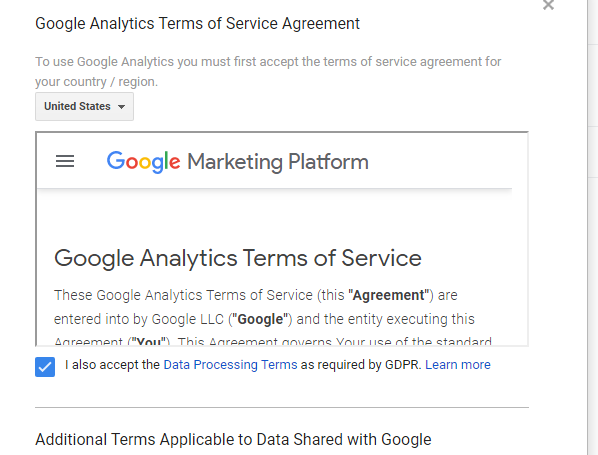 Step 4: Here you will be presented with your Google Analytics Tracking Code. You can copy it out. I also suggest that your leave browser analytics tab open as you may need to revisit it once you have installed the code on your wordpress site.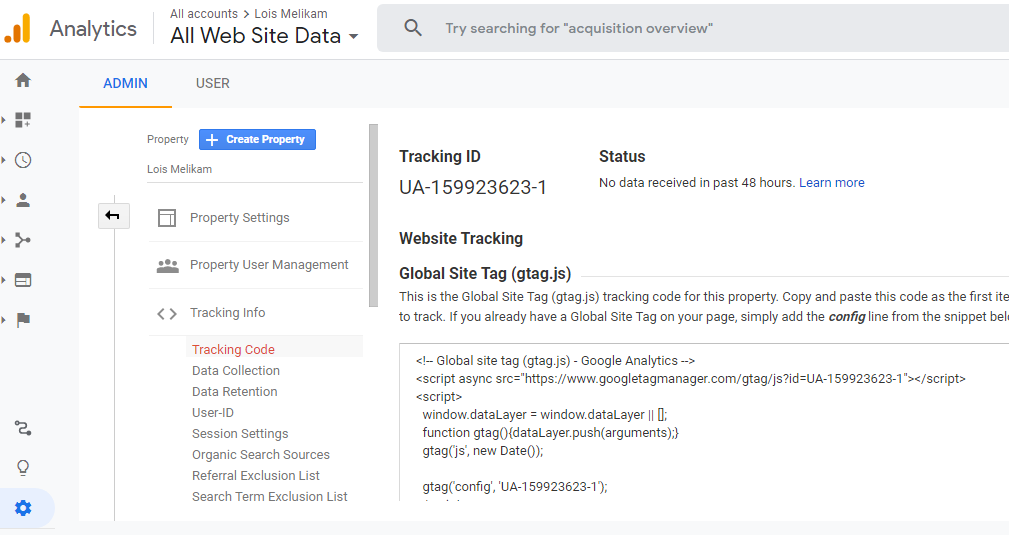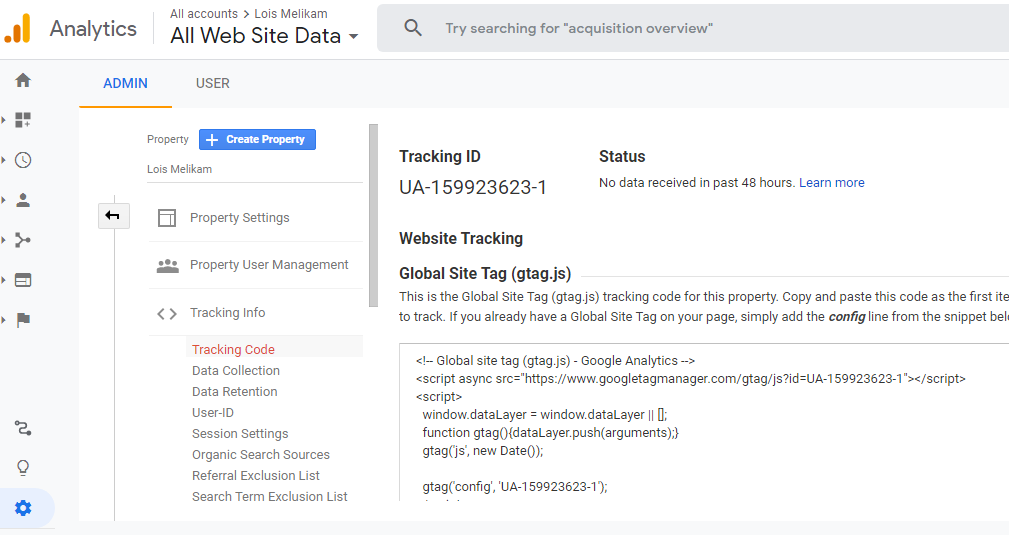 So now that you have successfully setup a Google Analytics Account, let's install Google Analytics on your website.
How To Install Google Analytics In WordPress
I will show you how to install Google Analytics in your wordpress site the easy way.
Google Analytics For WordPress By MonsterInsights
MonsterInsights is the most popular Google Analytics plugin for wordpress. It has both the free and pro version. But in this tutorial I will be using the free version.
First you need to install and activate the MonsterInsights plugin. To do that, go to your wordpress dashboard, click on plugin, click on add new, search for MonsterInsights, install and activate.
After activating it, the plugin will add a new item labeled "Insights" to your wordpress admin menu. Clicking on it, will bring up the MonsterInsights set up wizard.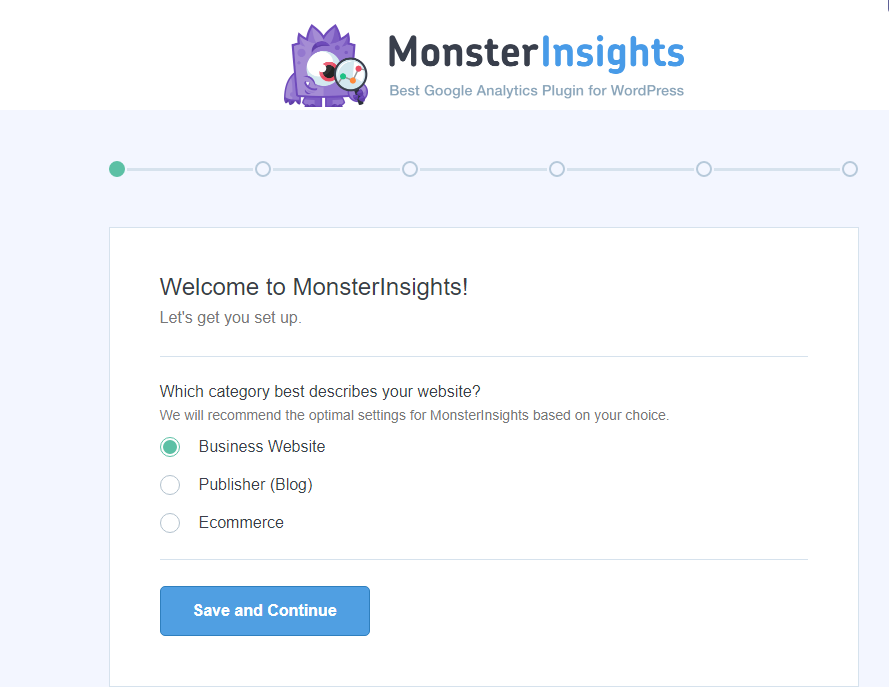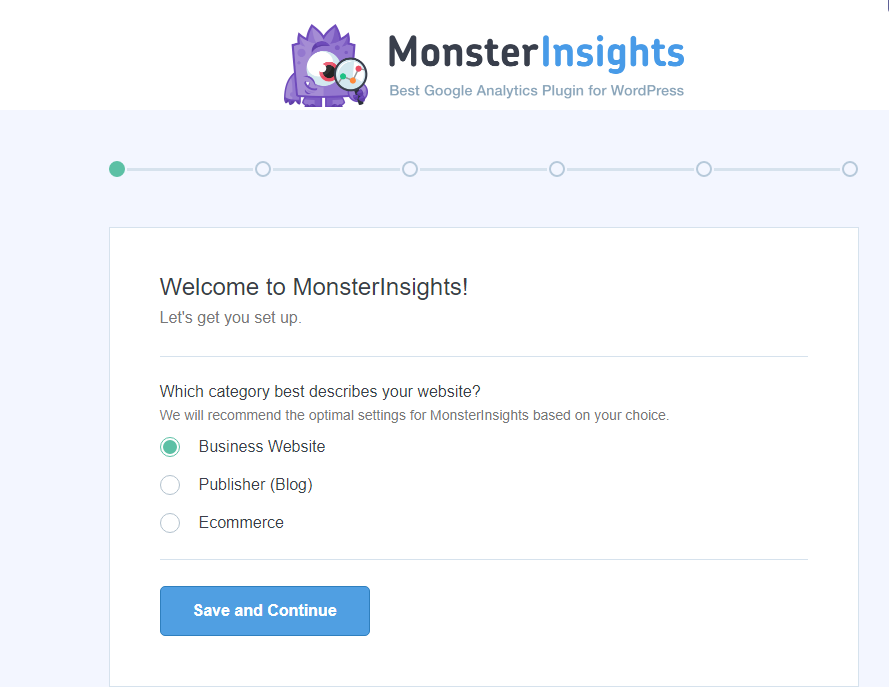 First, you need to choose a category that best describes your website. Either a business website, Blog or Ecommerce. You choose one, click on "Save and Continue".
Next, you click on the "Connect MonsterInsights" button.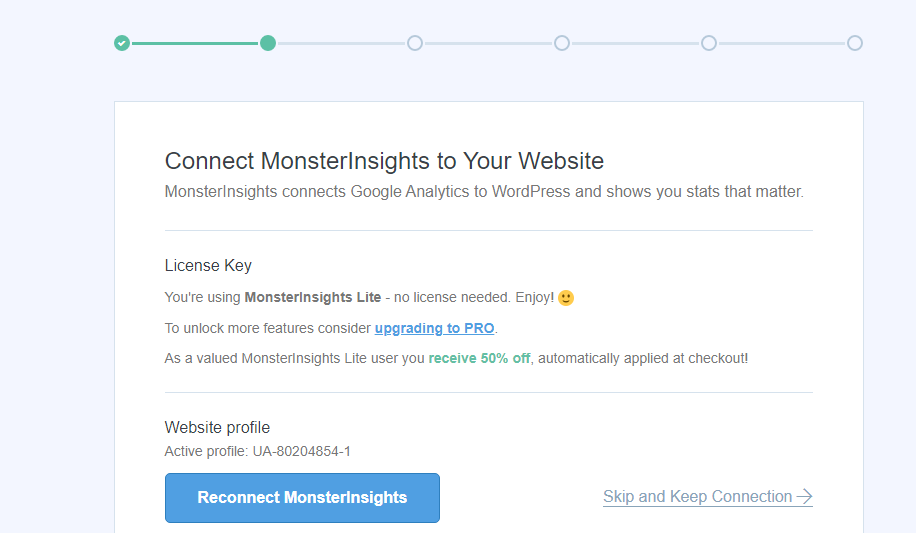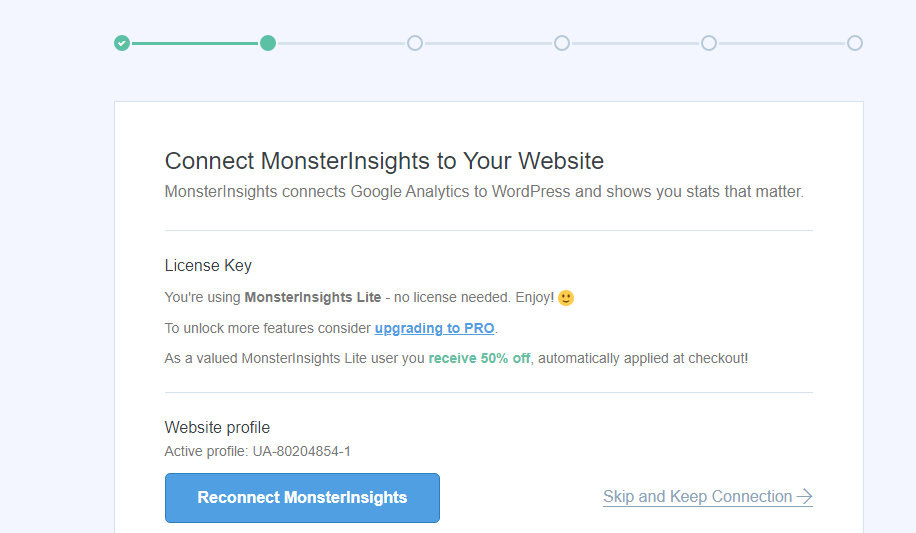 This will bring up a pop up where you will need to sign in with a Google Account.
Then you will asked to allow MonsterInsights to access your Google Account. Click on the allow button and continue.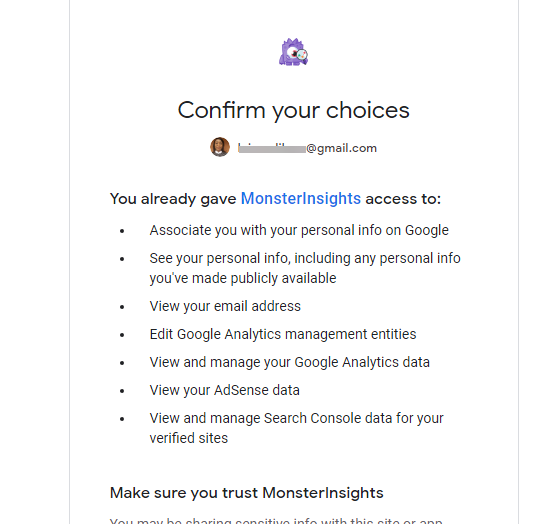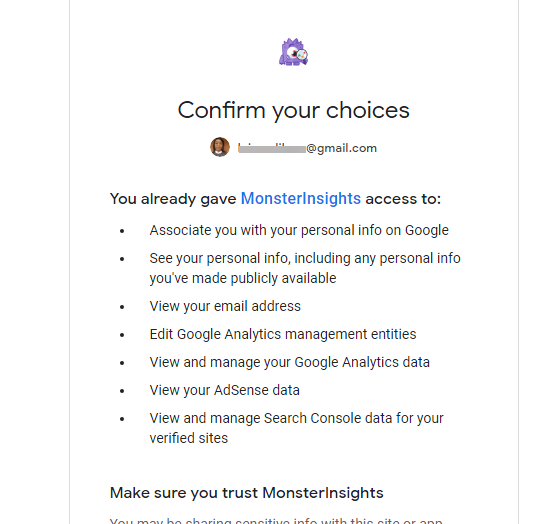 The last step is to select the profile you want to track. Select your website and click on the "complete connection" button.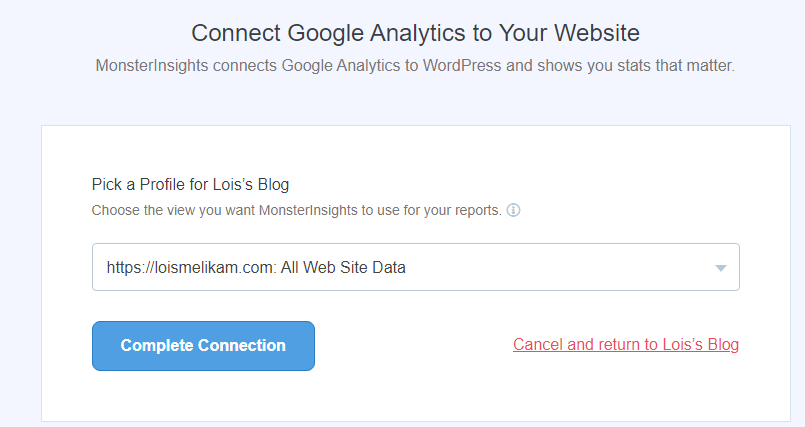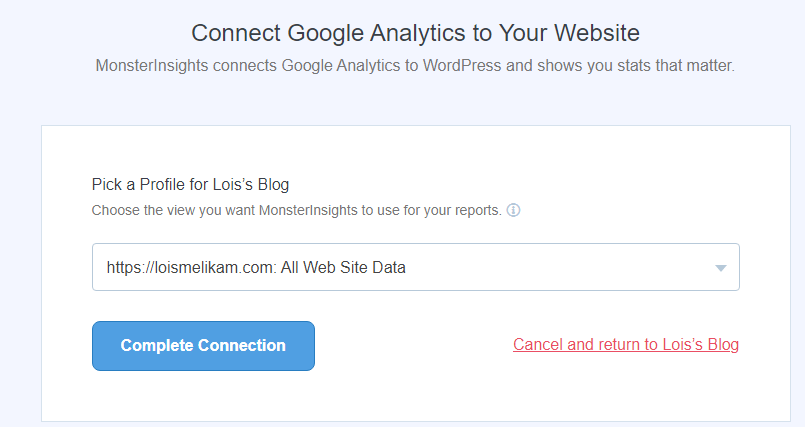 MonsterInsights will now install Google Analytics on your website. Now you will be asked to select the recommended settings for your website.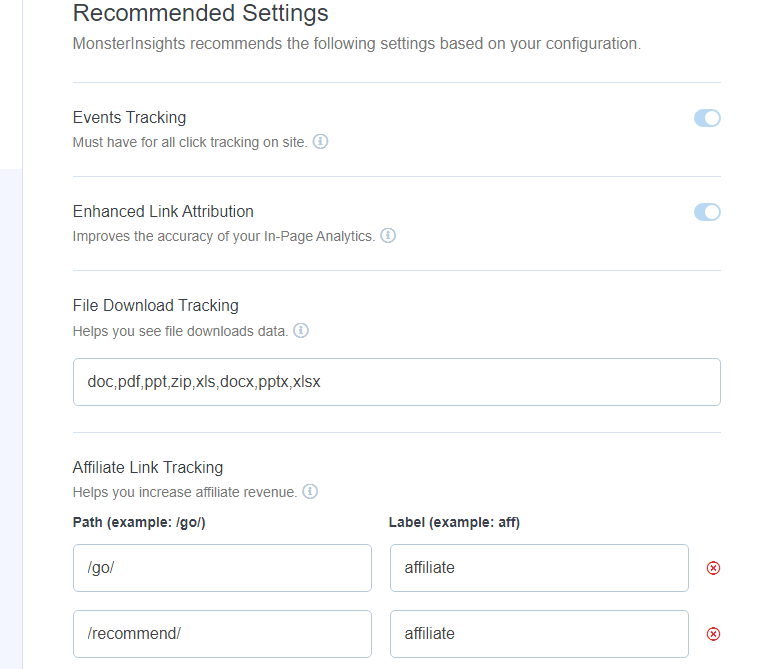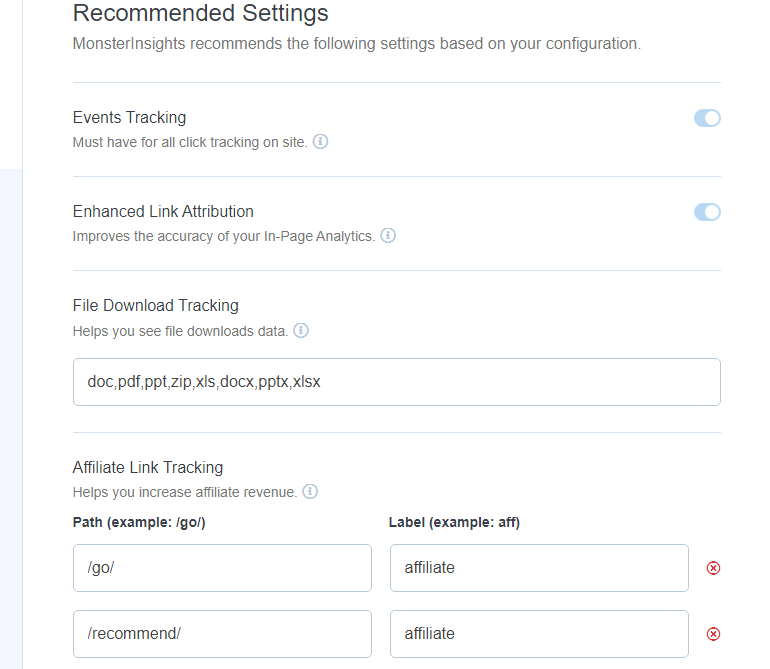 The default settings work for most sites, so click on the "save and continue" button to save your settings.
Next MonsterInsights will show you paid add-ons that you can access if you upgrade to the pro version. You can click on the "save and continue" button to skip this step.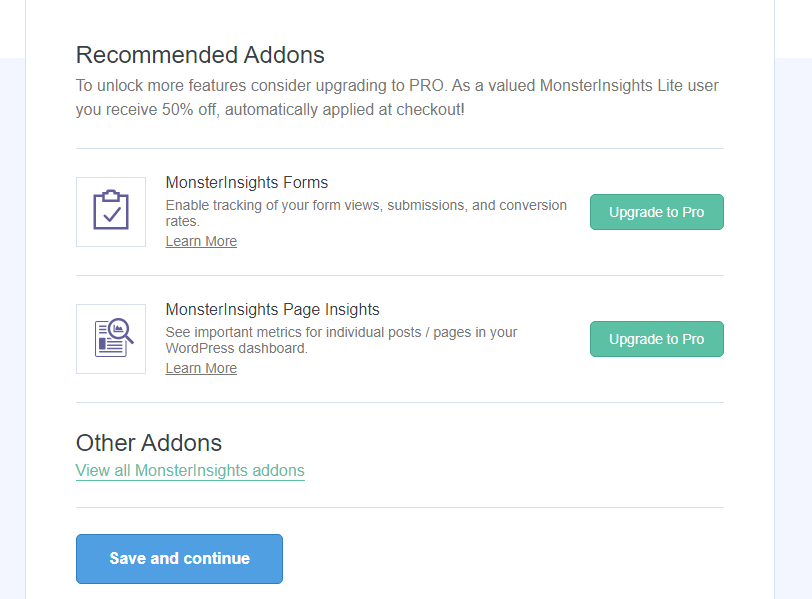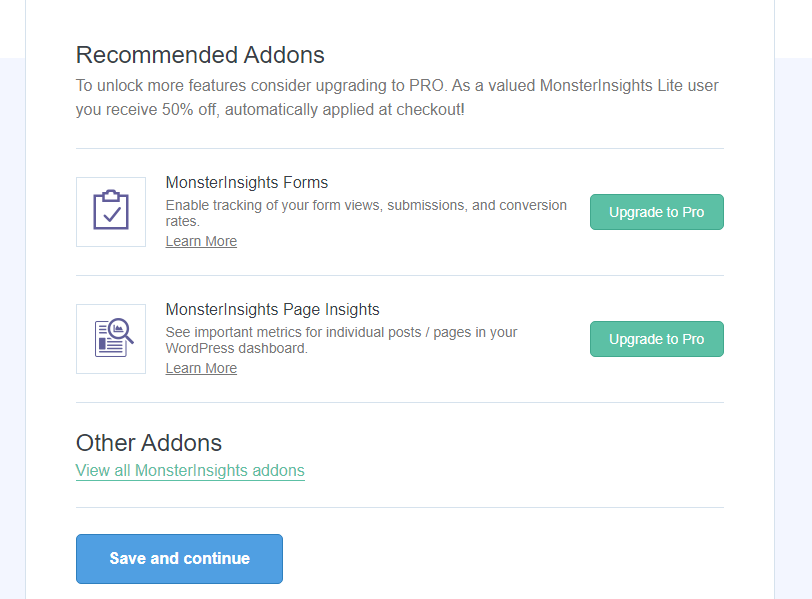 Awesome you're all set, MonsterInsights is all setup and ready to use on your website.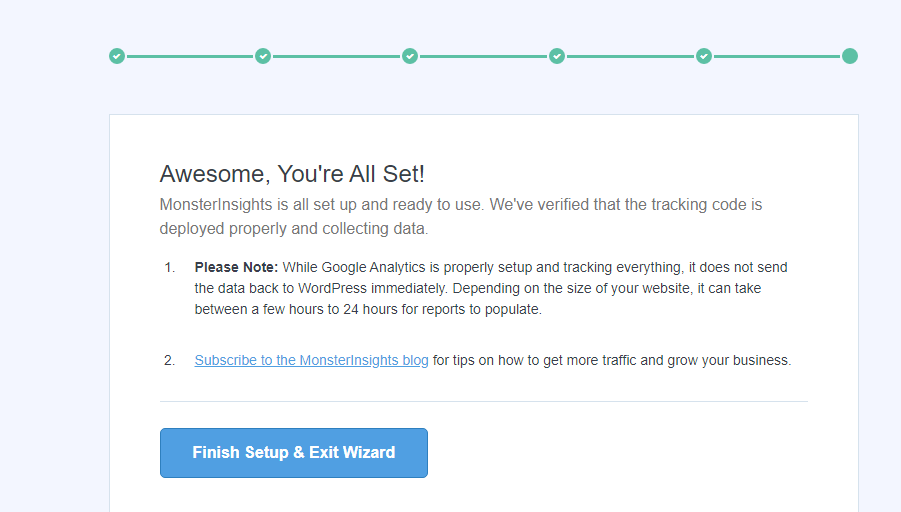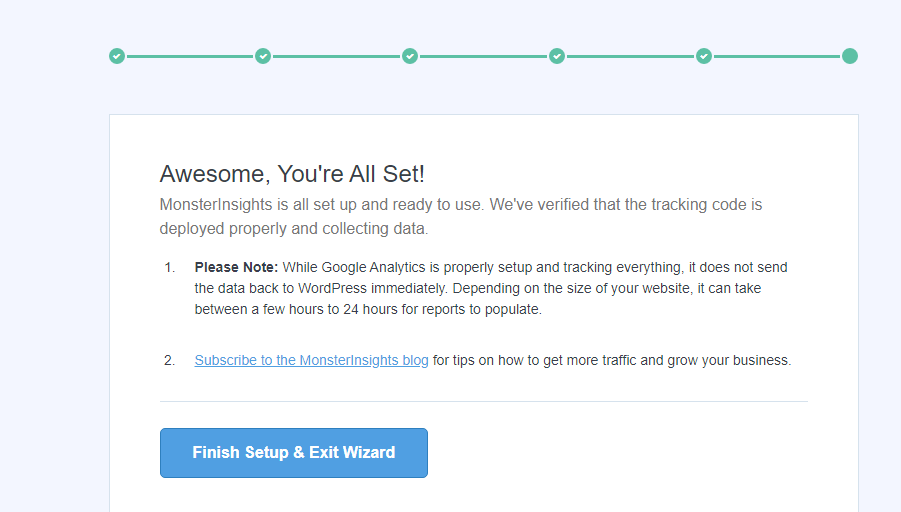 So now you can easily view your Google Analytics reports inside your WordPress dashboard. Simply click on Insights, >> Reports to see a quick view of your analytics data.
If you're a new blogger, setting up Google Analytics is the primary thing you need to for your blog. It will help you understand what your audience wants from you and with this information, you can plan your entire blogging strategy.
Let me know in the comment section how you use Google Analytics for your blog!