Do you know that you can make $2000 monthly working as a virtually assistant from the comfort of your home just using your laptop and an internet connection?
I love the many opportunities that comes with being a virtual assistant. The possibility of making $2000 monthly as a virtual assistant from your skill and passion.
Times are changing and so you need to change as well so that you don't become obsolete trying to make money only by working a 9-5 job only.
I earned my first $200 from my website by offering a skill I already have. And seriously I have many more tech skills under my sleeves. But I am particularly concerned about busy moms like me or moms who want's to earn money and contribute to their family income no matter how little.
I want to show you that it's possible to make money online and that you have all that it takes to earn money.
So I will be showing you the real life story of a mom just like you who earns $1000 – $2000 even as a busy mom.
Meet Rachel she works part time as a virtual assistant and averages about $1000 – $2000 each month.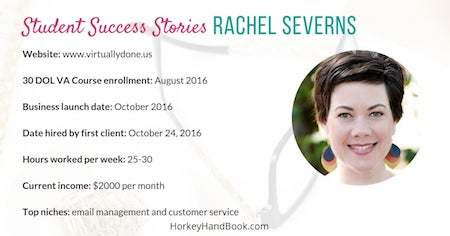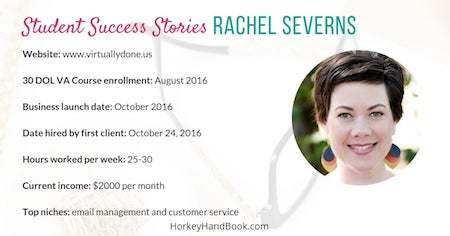 Rachel is a busy mom and her husband works with the military while her children are also in school.
She figured out that getting a traditional job will not work for her restrictive schedule and hours. And so she decided to utilize her skills working as a virtual assistant from home.
She got to find out about how to become a virtual assistant in 30 days or less and she enrolled immediately.
And the most interesting part is that while still working her way through the course, she landed her first client just after two months and a half, and so she focused on scaling her business.
And today Rachel is living her dream life, working as a virtual assistant for only 10 – 15 hours per week specializing in email marketing and customer service.
She has customers in different locations including US, Canada and the United Kingdom.
And even though her husband supports their family working for the military, Rachel is thrilled to be making $2000 monthly as a virtual assistant working part time.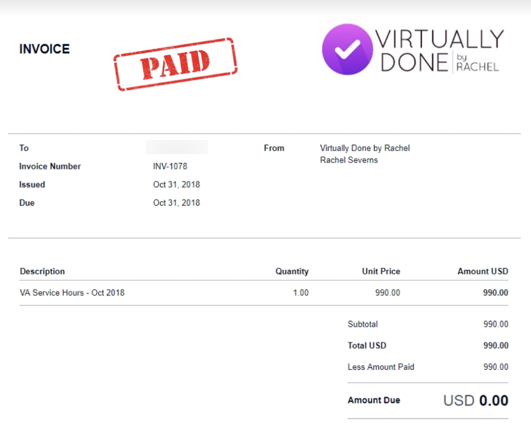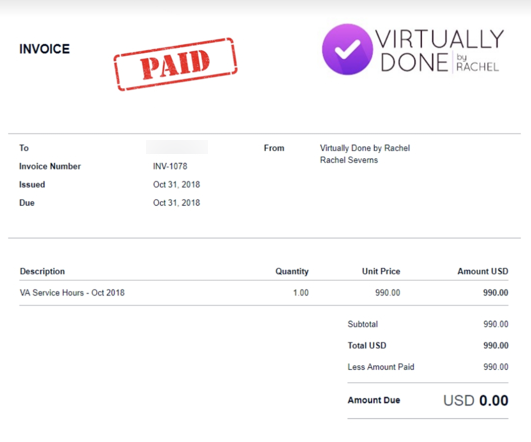 Becoming a virtual assistant does not necessarily require you to invest all your time and energy into launching a new business with easy to follow course like 30 Days or Less To Virtual Assistant Success. You simply need to follow the step by step roadmap provided in the course and you will be on your way to landing your first client like Rachel and of course building your business.
In today's world you can build a great side hustle that fits well into your lifestyle.
And there are many success stories out there especially moms who are living their dream life of raising their kids and also contributing financially to the home.
So why not launch your business using as much or little time you can spare.
If you will like to start a business that takes just about 10 – 15 hours a week to run like Rachel's while still making enough money to support your family, then just head here to make it happen.
Now it's time to dive into what you get with 30 Days or Less to Virtual Assistant Success to decide if it's right for you.
This AH-MAZING program will lead you step-by-step through launching and growing your very own VA biz from scratch.
Here's a taste of what you'll get:
The #1 most important skill needed to make inexperience completely irrelevant to become a successful VA
3 unknown reasons why businesses LOVE to work with VA's (memorize these reasons and use them to lock down clients for yourself)
How keeping your "VA radar" on can lead to finding brand new clients without ANY extra research at all (I did this and locked down a client for two years because of it)
The key trait to building a relationship with your client that makes them want to lock you up and throw away the key (so no other business can have you)
The biggest reason why businesses hate hiring regular "9 to 5ers" and love working with VA's instead
How to frame your VA services so that you stand apart from the "average VA" and are seen as a business "necessity" instead (Gina did this to land her first VA client when she had ZERO VA experience at all)
The key to connecting your VA work directly to a businesses success (doing this will elevate your value and only make a client want to give you MORE responsibility… and more CASH because of it)
The 6 traits you MUST HAVE that lead to success with the HIGHEST paying clients out there
…Getting excited?
These tips and more are what Hailey use to generate nearly $5,000 each month as a VA: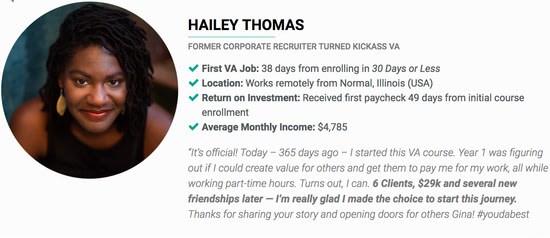 Not bad, right?
Not only that:
Here's what else you'll get in the course:
13 self-paced modules to train you on how to become a successful VA (70+ lessons and over 145 minutes of video content).
Access to 25+ advanced trainings and templates you can use to secure gigs and deliver your services to clients.
A certificate of completion to overcome those pesky "skeptical" clients out there (think of it like a "college degree" for your business)
30 days of trial access to our VA Leads Community where we post jobs, share tactics and offer personalized help for all members!
PLUS, as a VA Leads Community member, you receive FREE WordPress Hosting from Flywheel (a $30/month value)!
And much more as well!
If you want to work remotely, earn a side income or call your own shots as a business owner, I'm here to help you make that goal of yours happen right now!
Check out the course HERE.