Don't fancy blogging, I got you. Here are 3 Fun And Easy Ways To Make Money Online Without A Blog
You're dissappointed every time you search for how to make money online and all you see is blogging.
Although I will love it if you start blogging, but I totally understand.
We have different passions and we love different things but we both have one thing in common, we love to make money.
I always say I don't like to stay home doing anything without earning an income.
If I must stay at home, I want my stay at home to be very rewarding.
And I want to spend a good time with my family lounging, and doing what I love most.
Not to imagine having a day job and earning peanuts.
That must be humiliating and sucks so much.
But know that you're not alone.
That's why I started blogging because I want to stay at home and take care of my kids.
I know you're interested also, and I am going to help you find ways to make money online so that you can work from home and also be your own boss.
So before I go into details, understand that you can attain your income goals whether $1000 or $10,000.
You simply need patience and committment.
There's nothing like get rich quick scheme.
Here are the 3 fun and easy ways to make money online without a blog.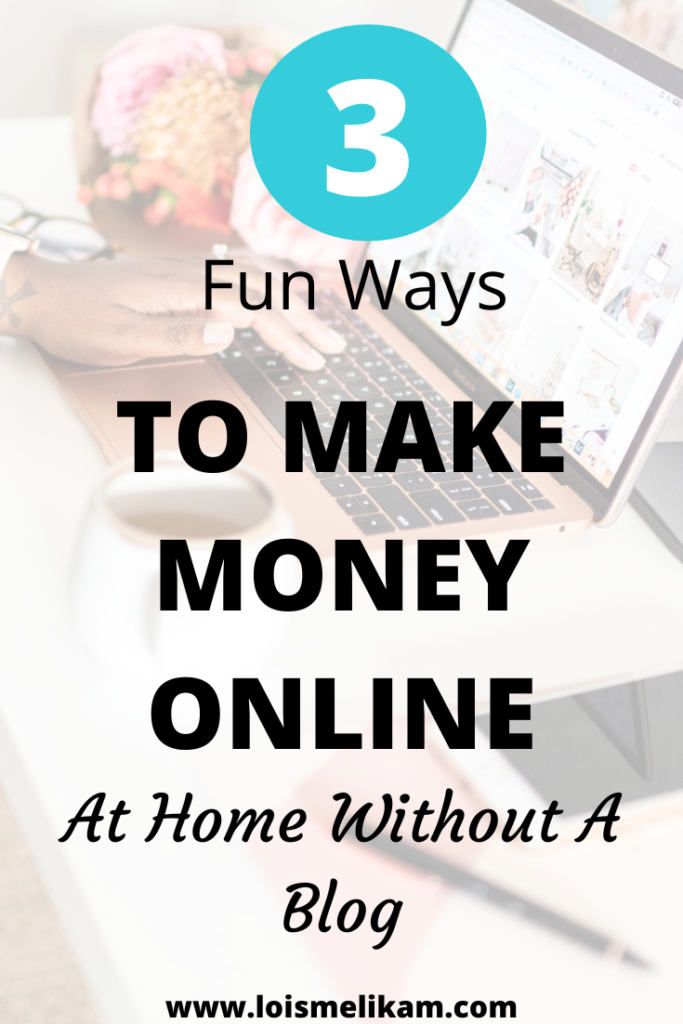 1. Find Your Passion
The fact that you don't like blogging means that you're not interested and passionate about blogging.
So the best thing to do is to find your passion and start doing what you are passionate about.
Doing what you're not passionate about will lead to failure.
Like I said earlier, everything we do requires patience and commitment and we are usually committed to the things that we are passionate about.
The easiest way to find your passion is by trial and error, don't try to be perfect.
List out things you love doing.
Is it cooking, painting, drawing or you love watching baking videos on youtube.
You can start by offering your services on Fiverr as a freelancer or start a youtube channel and share your expertise with your audience.
If you implement the right strategies, you can make a living from your art.
So start and see where your talent takes you.
2. Start A Youtube Channel
Do you enjoy creating videos?
Then Youtube is the best platform for you.
I know you spend hours watching a lot of youtube videos, you're not alone. I also do that.
If you start publishing quality content on youtube, your fans will appreciate that and they will spend more hours watching your videos.
If you allow ads on your YouTube channel, you will make about $4.18 for every 1000 ads view.
And this isn't bad as your channel grows, you earn more.
3. Sell Gigs On Fiverr
It is a global market that offers different of services starting at a cost of $5.
On Fiverr you can reach customers from all part of the world and also sell anything.
And the beautiful thing is that Fiverr is free for everyone irrespective of the gig that you are selling.
Fiverr gigs are services offered on the platform. You can find gigs such as "I will teach you french for $5".
Amazing right? Join Fiverr and start making online from the comfort of your home.
Fiverr is the best platform to make money with your talent.
Yah, It's A Wrap
You can make money online at home.
The 3 Fun Ways I mentioned that you can make money online without a blog, such as using your talent, starting a youtube channel and selling gigs on Fiverr are effective and guaranteed.
Be committed and stay positive and you will achieve your dream.
Do you have any other way you have tried that works.
Please leave a comment below, I would love to hear from you.
I hope this post helped you, please share with your friends and also follow me on Pinterest.