If you have started your blog, you know one of the essential and must have tools to build your blog is your theme. Here are best feminine WordPress theme for bloggers that will elevate your online business quickly.
I know how time consuming it can be to choose a "perfect" theme for your blog, and I'm here to help you sieve through the whole noise in the world of thousands of theme so that you can commit your time towards running and maintaining a successful blog.
Not been biased though, if you're a male blogger, there's something for you in this blog post as well, so read on.
As a blogger or online business owner, you must have discovered the importance of choosing the right theme for your blog, and perhaps you're already getting confused and you keep changing free themes instead of focusing on building your blog.
Choosing a good theme is one of those blogging tools that you essentially need.
Using one of the best feminine wordpress themes on your blog will save you tons of hours of installing and uninstalling one theme after the other.
All this hours if summed up will obviously take your blogging game to a high level.
This used to be my reality and I don't want you to waste your time, let me help you choose the right wordpress theme from the beginning so that you can set up your blog for success and focus on crafting the right content and marketing strategy to grow your blog and online business.
Free Theme and Paid Theme
If you are using wordpress.org which I highly recommend as your blogging platform, you already know that wordpress has tons of thousands of free themes and of course paid themes as well.
But if you have not started your blog yet, here's a detailed tutorial to help you start your first blog the right way.
If you want your blog to stand out online and have a brand that represents you, buying a premium wordpress theme is your best option.
Your wordpress theme controls the general appearance of your blog.
I know it can be tempting to use a free theme after paying for a custom domain name and hosting for your blog, but do you know that a premium theme is a one time purchase(typically $50-$100) and that goes a long way in making your wordpress blog look nice and professional.
Free theme has limited features and less functionalities
Free themes are available to all and most times already have over a million downloads and this certainly means no uniqueness will be attached to your brand when you use it.
Free themes are hardly updated
Free themes offers no support and of course this does not come as a surprise because it is free.
So here are 5 Best Feminine WordPress Theme that will completely transform your blog design and feel.
1. 17thavenuedesigns – Feminine & Customizable WordPress Theme
I love, love the 17thavenuedesigns theme, first time I visited their website, I fell in love with all the stunning absolutely gorgeous themes. I promise you, you will be spoilt for choice.
The 17thavenedesigns have beautiful, functional wordpress themes for creative entrepreneurs and bloggers.
If you're a creative and you love beautiful designs, then the 17thavenuedesigns theme is your go to feminine wordpress theme.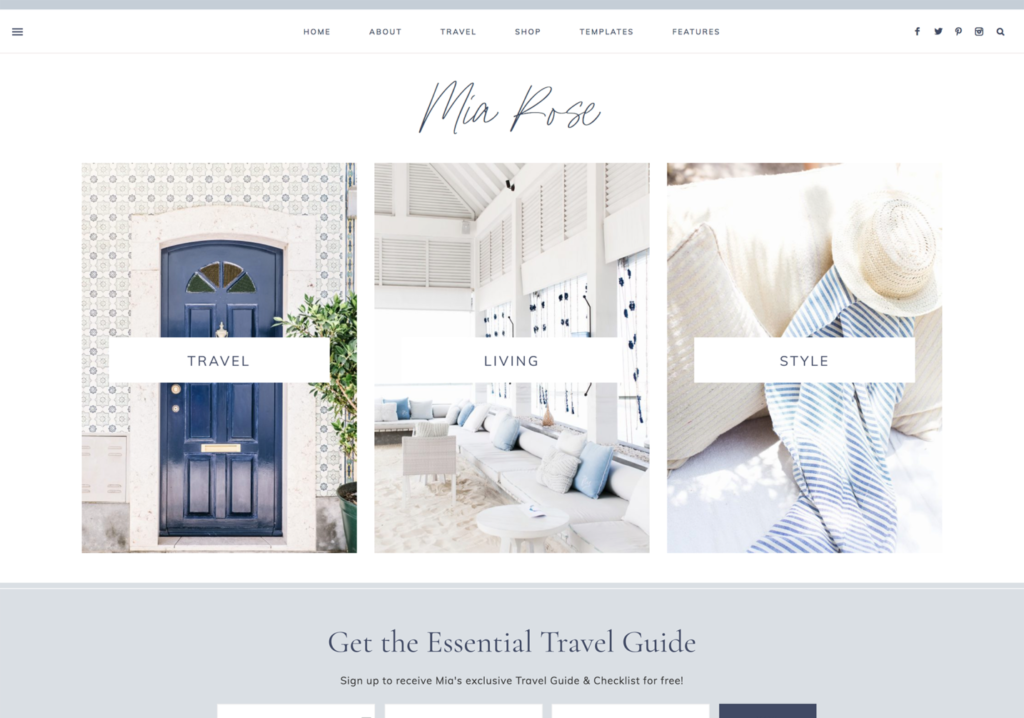 2. Bluchic – Feminine WordPress theme for female entrepreneurs and bloggers
Bluchic Feminine WordPress theme instantly elevates your blog, ensuring your blogs works and looks the way you want it. It showcases your skills, products and services in the best way possible.
Whether you're a virtual assistant or you offer your skills and services on your blog. The Bluchic feminine wordpress theme is your plug.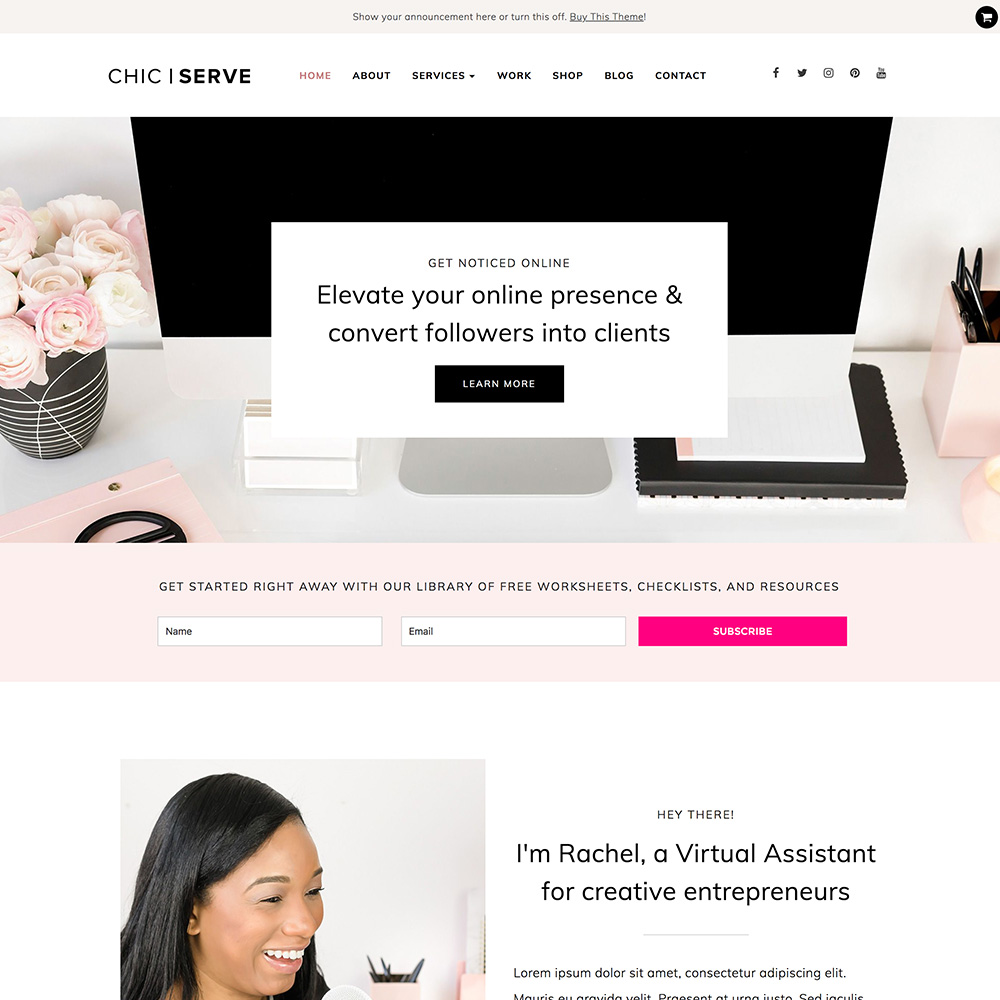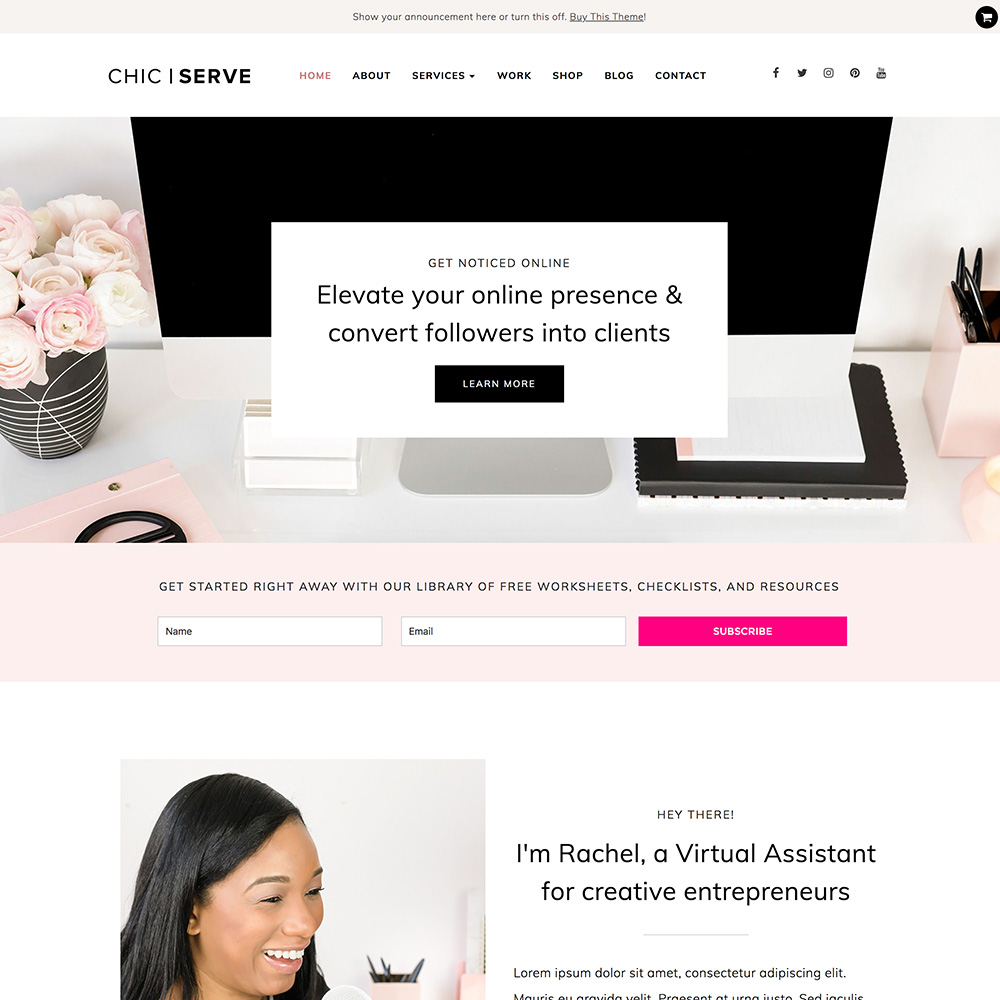 3. Emily Grace – A Blog and Shop Theme
Emily Grace is a chic and sophisticated WordPress theme that is packed with features for the modern blogger. With its feminine design and endless customization options.
Emily Grace is the perfect choice for online businesses, creatives, bloggers, and influencers looking to transform their online presence.
The Emily Grace theme comes with a set of eight beautifully-designed pages, including five home page options. Plus, mix and match multiple blog layouts and feature elements to create a website that is uniquely yours.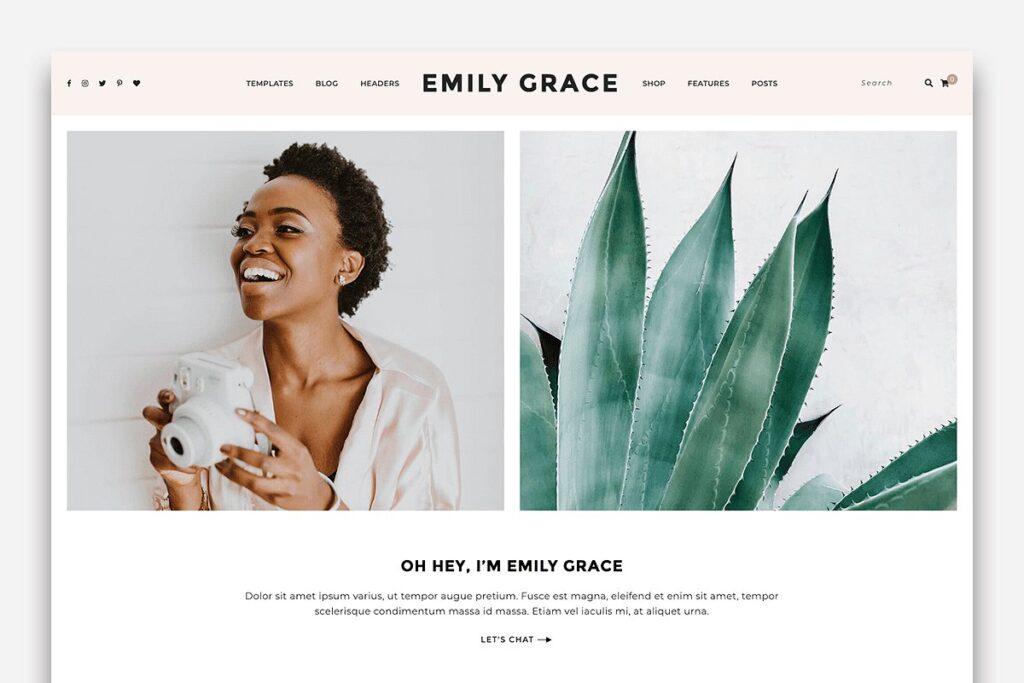 4. Jemma – Feminine WordPress Theme For Moms
The Jemma WordPress theme is a unique and feminine blog design. This blog theme is perfect for fashion, mommy, travel blogs and more. This theme includes many custom touches and features like dual menus and widget areas.
Chose from 20+ blog layouts, 4 headers, flexible archive layouts and more to give your blog a very custom look. This theme is packed with customization options from colors to fonts as well as flexible widget areas.
GDPR, Gutenberg and WordPress 5.0 ready.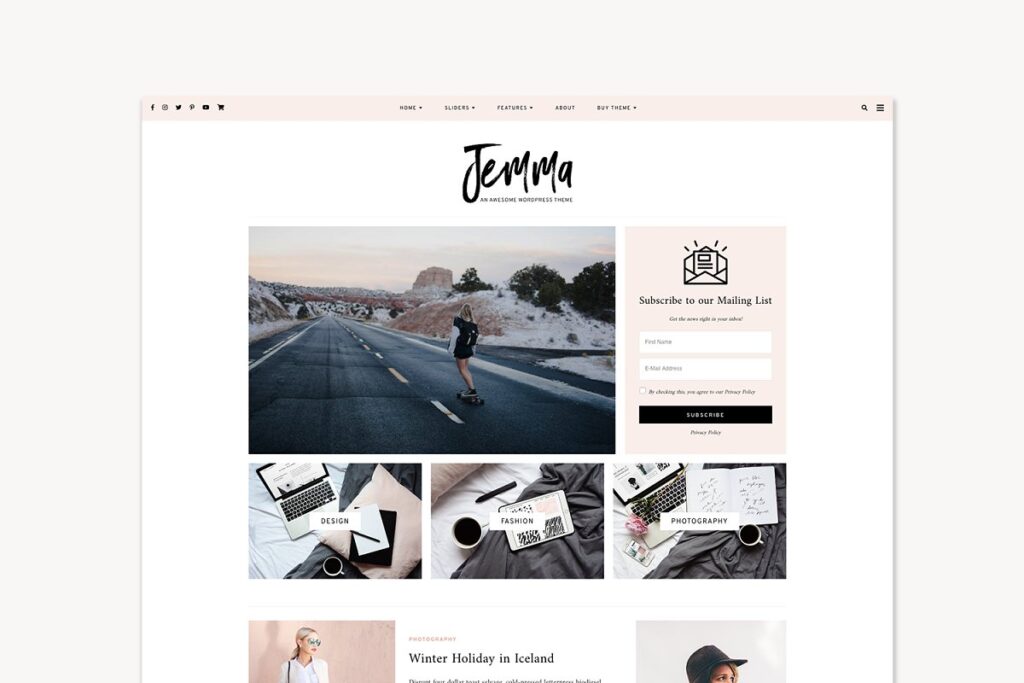 5. Astra – Fast, Light and Customizable WordPress Theme
The Astra Theme is the fastest growing theme of all time. Astra theme cuts across the gender bias and that's why I love it. And if you have been guessing what theme I currently use on my website at the time of writing this blog posts, If you guessed Astra you're right.
Astra is the most light weight wordpress theme available in the market and offers unmatched performance.
With Astra theme, you can customize your website to look the way you want.
Other amazing functionalities of the Astra Theme are:
Prebuilt Websites – The Astra Theme have starter templates that you can easily customize to reflect your brand without much hassle.
Customize Without Code – Use the wordpress customizer to change the design to your taste.
Super Fast Performance – Having a fast blog or website is one the things you should consider when buying a premium theme and astra theme satisfies that curiosity without any doubt. So if speed is your focus, you have no fear choosing the astra theme.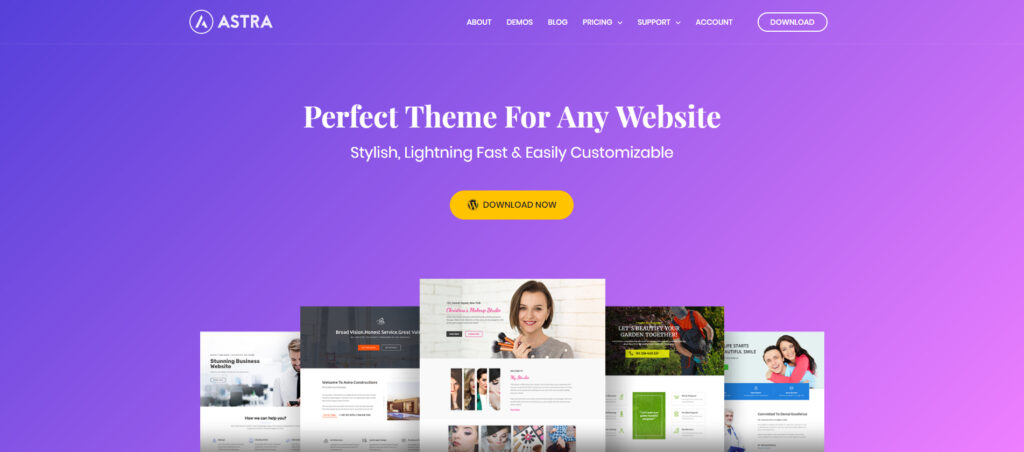 Final Thoughts
Purchasing a theme will save you tons of hours and thousands of dollars that you will use to hire a web designer. This is because a theme, custom domain and a host plan are the three (3) tools that you need to create a website and yes even if you're not techie you can DIY your website with these 3 tools.
So over to you, now you have the best options to choose from so that you can create a stunning blog that totally represents your brand. But I am curious, let me know the theme you currently use on your blog.